Together 3.3 for Mac is now available. This version updates Together for OS X Yosemite and includes Handoff support for Together for Mac and Together for iPad and iPhone using the same iCloud library, along with a redesigned tag browser, improved previews and other minor improvements.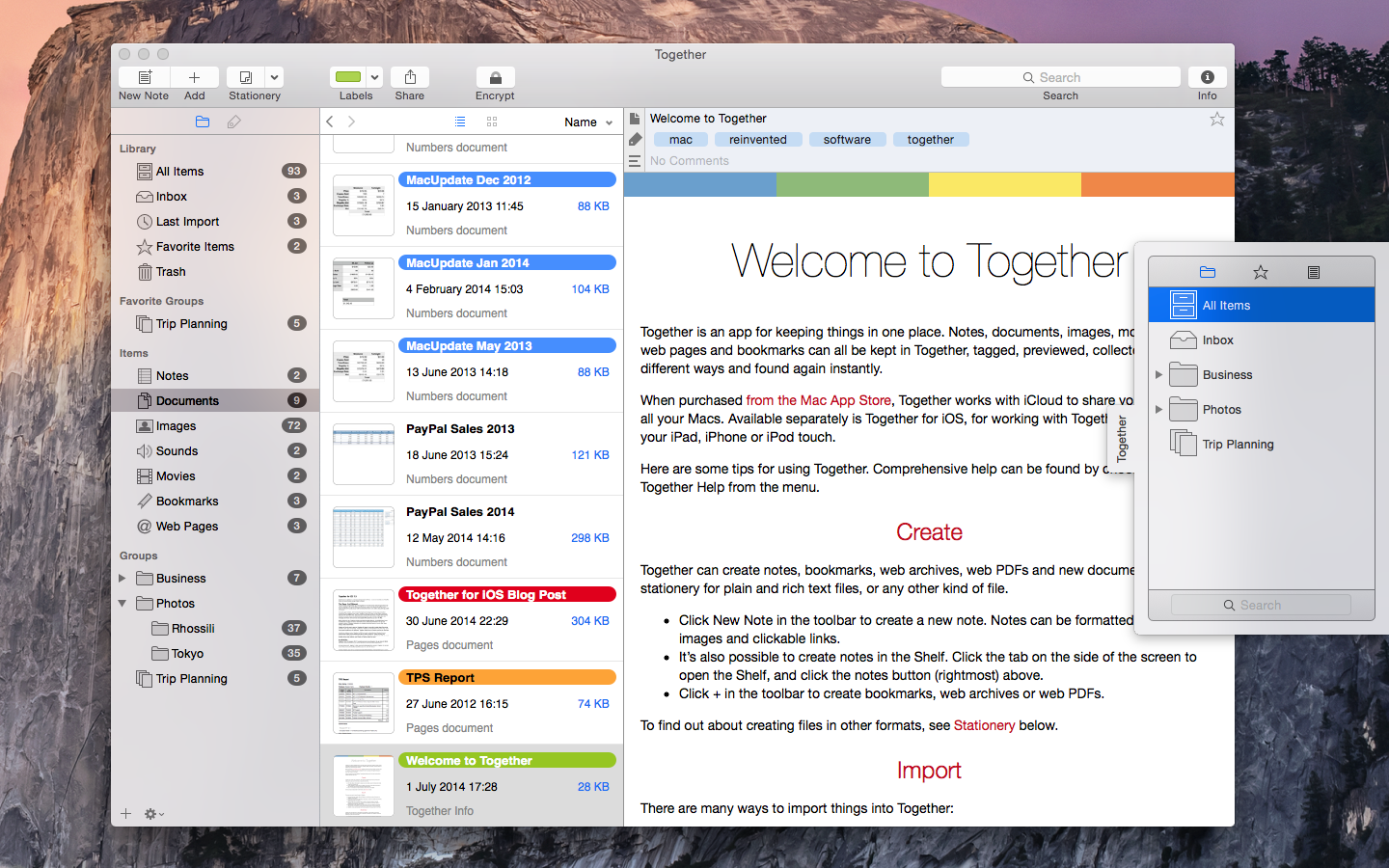 OS X Yosemite
Together has been extensively updated to take advantage of the new design of OS X Yosemite, with scrolled content blurred behind the window title bar and tabs, translucent sidebars, new icons for the toolbar, groups and preferences and some redesigned previews. The Shelf now has light and dark themes, which will automatically match the System Preferences setting for dark menus and Dock, but can be overridden in Together's Shelf preferences.
Tag Browser
Together for Mac now uses the same streamlined design for the tag browser as Together for iPad and iPhone to show tag bundles, labels and ratings. Also, it's now possible to create and edit labels directly in the tag browser and create tag bundles from selected tags.
iCloud and Handoff
In the Mac App Store version, iCloud support has been updated to work properly with iCloud Drive (which you can safely enable on iOS now that OS X Yosemite is released). Together can also use Handoff to immediately continue viewing the current item on another device with the same iCloud library open, whether that's an iPad, iPhone or another Mac. On iOS, Handoff is available in Together 1.1.1 or later, which is available on the App Store now.
And More
Together 3.3 also includes some other tweaks and fixes. See the Together Release Notes page for a full list of changes.
Availability
Together 3.3 requires OS X 10.10 Yosemite and later. This is a free upgrade for all Together 3.x users. A full copy is $49.99 and an upgrade from version 2.x is $24.99 (not available on the Mac App Store), with a 15-day trial available for download from this site. The Mac App Store version is required to work with iCloud and Together for iPad and iPhone, which is available for $9.99 on the App Store.