Together for Evernote Users
This guide will help you get the most out of Together if you have previously used Evernote.
If you would like to try Together, you can download the 15-day demo.
Importing Notebooks from Evernote
Download the Evernote Importer to import notebooks from Evernote into the current Together library:

EvernoteImporter.zip
When importing, a folder is created for every notebook, and tags, dates and comments are preserved. Evernote notes that have only one file attached and no other text will be imported as standalone files – e.g. an image, a PDF document, a sound file, etc. Web clippings will be imported as web archives (which can be opened in Safari and other apps), and everything else will be imported as a Together note, with any attachments preserved.
About Together Libraries
In Evernote, everything is a note, and notes are stored in notebooks. In Together, everything is an item, items are organized into folders and stored in a library.
Together libraries are kept in a folder in the Finder that you choose, and the items in your library are kept as files inside that folder. Together can also link to files, so you do not have to store them in the library; when linked, the original files can then be moved and renamed without Together losing track of them.
Organizing with Together
Together provides many ways to organize items within libraries, such as folders, tags, colored labels, star ratings, groups and smart groups.
Groups collect items together without moving them. An item can be placed in any number of groups, but only one folder at a time. When you remove a group, all the items it contains stay in the library.
Smart groups collect items together based on rules that you specify. For example, a smart group could look for all items that have certain names or were changed in a particular timeframe.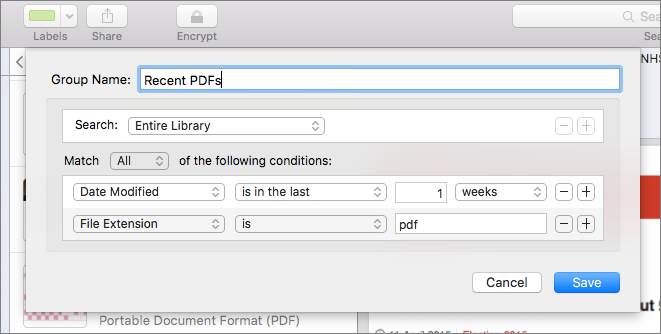 Editing a smart group
Importing from Other Apps
Just about anything can be imported into Together by dragging it to the app's icon, main window or the Shelf, which is the tab you see on the side of the screen while Together is running.
The Shelf serves a number of purposes. When you drag something to the Shelf, it shows your groups and folders, so you can choose where to file something. Click on the tab to open the Shelf and browse or search your library, see your favorites or make a note while you work in another app. See a Quick Look preview of an item in the Shelf by selecting it and pressing the Space key.
The Shelf can open when you import something from another app, so you can choose a destination group or folder, set a label, add tags and so on. You can enable this in Together's Import preferences.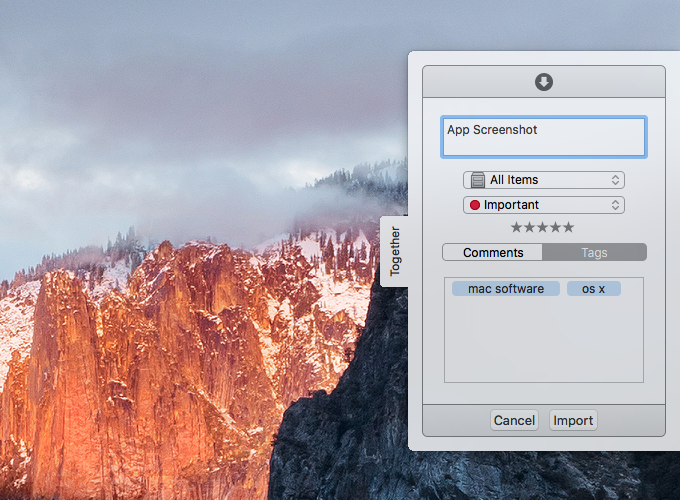 Adding information in the Shelf when importing
Together can also import from other apps using its "Add To Together" Share extension, global Import Hot Key, bookmarklets, the Services menu, or by saving files to one of the folders inside its library folder to automatically import them.
When importing files, Together can copy, move or link to the originals. Folders can be either moved or copied.
When importing web links, Together can create bookmarks, web archives or web PDFs. Web archives are self-contained files that archive an entire web page in its original form, and Web PDFs look identical (or very close) to the original web page, and include clickable links.
Use Together's Import preferences to tell Together how to import things, and to learn how to override the default settings when needed.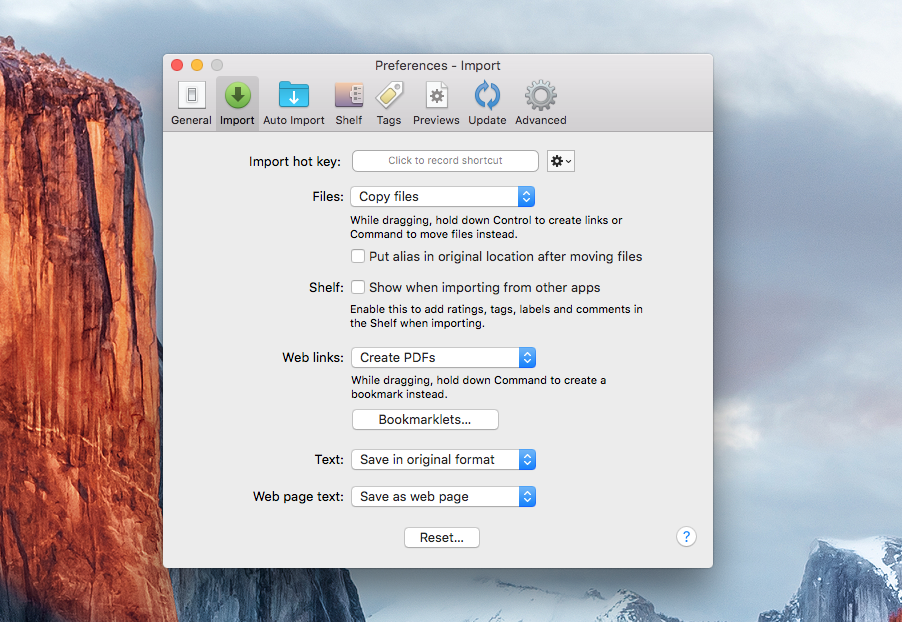 Together's Import preferences
Creating Content
Together can create notes, or any other kind of file using stationery. Stationery makes a copy of a stationery file in your library. The file can be empty or contain template content.
Together includes built-in stationery for plain and rich text files. Any item in Together can be used as stationery by choosing File > Save As Stationery from the menu. For example, you could save an empty Markdown text file as stationery.
When you use ⌘N to create a new document, you can set Together to create a note or any stationery document in its General preferences.
Using Together with iCloud
Together uses iCloud to share your files across Macs, iPads and iPhones. You can choose whether to store a library in iCloud either when it's created, or move libraries into and out of iCloud at any time using the options in the File > Library menu.
Even though everything in your library will be stored in iCloud, it won't appear in iCloud Drive. Together communicates directly with iCloud, so you can store the library wherever you like.
After storing a library in iCloud, you can open it on another Mac or iOS device by choosing its name from the list when the app starts up, and you can switch between libraries using the File > Library menu on Mac, or by tapping the Libraries button on iOS.
Your iCloud libraries can be large as your iCloud allowance. You do not need enough free space on your iOS devices for your library; Together will download files on demand, and you can remove these to save space. Unlike Evernote, Apple doesn't limit the amount of data that can be uploaded to iCloud each month or the number of devices you can use.
Apple, iPad, iPhone, iCloud and Mac are trademarks of Apple Inc., registered in the U.S. and other countries. iCloud and App Store is a service mark of Apple Inc.
Evernote is a trademark of Evernote Corporation and used under a license.