Download Keep It v1.x
To continue to use Keep It v1.x, download and install Keep It v1.11.16 from here:
This download is provided free of charge to allow people who purchased a full or upgrade version of Keep It v1.x from the Mac App Store to continue using the last v1.x version of Keep It without needing to upgrade, and is identical to the version provided for direct download to non-Mac App Store customers.
This download has been checked by Apple (with Notarization) for malware.
How To Install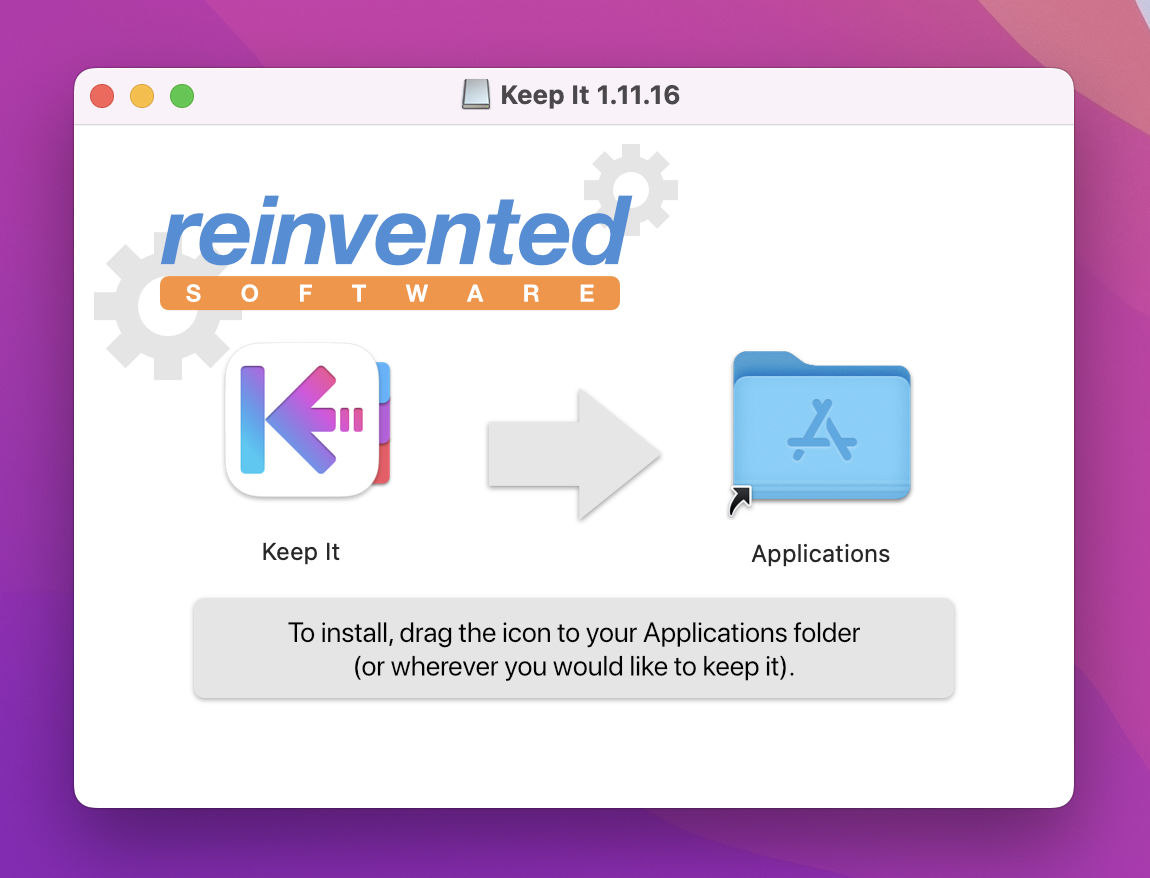 Quit Keep It, if it's running
Once the download has completed, open the Keep It 1.11.16 disk image in the Finder
Drag the app to the Applications folder, as shown, replacing the existing version of Keep It, if necessary
You will also need to follow these steps to stop the Mac App Store updating Keep It with newer versions (only if you have previously downloaded Keep It from the Mac App Store):
Choose App Store from the Apple menu
Select your name / account name at the bottom of the sidebar
Move the mouse over Keep It and click the … button
Choose Hide Purchase from the menu shown
Find instructions for hiding and unhiding apps on Apple's support site.
Questions & Answers
Why can't I continue to use the version from the Mac App Store?
The Mac App Store version of Keep It is primarily a subscription app, and will continue to be updated for subscribers.
Keep It for Mac on the Mac App Store also offers the ability to pay once to use the app for each major version (e.g. every v1.x release, or every v2.x release), with an optional upgrade discount when moving from one major version to the next, similar to the traditional full version / upgrade payment model prevalent in Mac apps sold outside the Mac App Store.
Therefore Keep It users who do not wish to pay to upgrade to receive updates for the next major version may continue to do so by downloading it from the Reinvented Software web site. This version of the app is free for Mac App Store Keep It users who paid to use all v1.x versions before the free upgrade period, but do not wish to upgrade to v2.x.
Who should download this version?
Subscribers should continue to use the Mac App Store version. Similarly, anyone who purchased Keep It in the year before the new major was released will automatically qualify for a free upgrade, and therefore do not need to pay to upgrade to v2.x.
Will I still be able to get an upgrade discount in the future?
You may download and install any Keep It 2.x version either from the Mac App Store or the Reinvented Software site and qualify for an upgrade discount to receive all v2.x updates for as long as Keep It v2.x is on sale.
How often are major versions released?
Major versions of Keep It (and its predecessors) are released on average every 4.5 years, however there is no set schedule, and it varies from release to release.