This page is provided as an archive, the application is no longer available.
NoteBook

for Mac OS X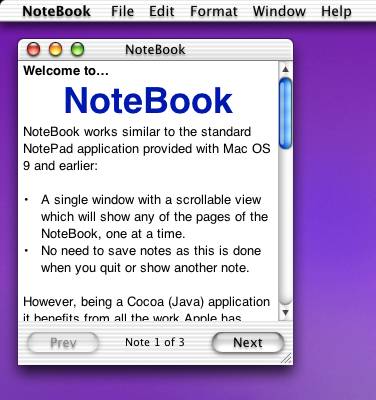 NoteBook is a freeware application that works in a similar fashion to the standard NotePad application provided with Mac OS 9 and earlier:
A single window with a scrollable view which will show any of the pages of the NoteBook, one at a time
No need to save notes as this is done when you quit or show another note
However, being a Cocoa application it does a whole lot more:
Fonts and styles
Rulers, paragraph formatting and alignment
Context-sensitive menus
Multiple undo and redo
Ability to store graphics in a note, as part of the text or on its own.
Spellchecking (including as-you-type with contextual guess menus)
No limit on the number of notes it can handle
Minimal interface takes up very little screen space, though it can be resized freely
Find and replace text in notes.
Export notes as RTF
Online help
Download NoteBook 1.0
Notebook 1.0 (Disk Copy Image / StuffIt File - 132KB)
This software is provided for free ("Freeware") on an "as is" basis and the author makes no warranties expressed or implied. In no event shall the author be liable for any consequential, indirect or special damages, (including damages for loss of business profits, business interruption, loss of business information and the like) arising out of the use or inability to use this software, even if the author has been advised of the possibility of such damages.
© 2000 Steve Harris