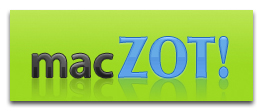 It's been a rollercoaster week for MacZOT regulars as they have been subjected to the psychological strain that is a StoryZOT, a new mutation of the frequent MyzteryZOTs, where the daily deal site sells a bundle of applications at a really knock-down price for a day without the buyers knowing what those apps will be.
StoryZOT has put a twist on this by running the stories of three developers for a week, promising that none of the apps have been featured on MacZOT before and throwing in a free game. For most of the week information has been slowly drip-fed while the identity of those apps remained shrouded in mystery. There did appear to be a leak on TUAW yesterday that made it onto the front page of Digg, but today all is revealed.
The three apps in question are my very own Keep It Together, rooSwitch from roobasoft and hawkeye from nito – a bundle of apps normally worth $69.85 all for $5.95.
You can still buy this bundle today, on the MacZOT site. The deal runs until 11:59 pm PST Saturday, September 2nd, 2006 or until it's sold out.
Update: The offer has now sold out.