I notice iTunes has extended customer reviews in the iTunes Music Store to podcasts in the last couple of weeks (although they didn't seem to be working at first). This is something I mentioned was missing before.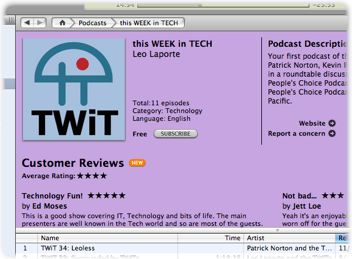 Currently there is no way to see the the top-rated podcasts in one place, but it's better than the "Today's Top Podcasts" for getting an idea of what's good and what's not.
I know many podcasters think it would be better still to replace that chart with something that keeps track of subscriptions over time, and I agree. That is where stuff like Podcast Alley's voting system works better, requiring listeners to make their views known on a monthly basis in quick and easy fashion.
But anyway, it's good to see this addition in iTunes.