September 26th, 2023 by Steve Harris

Keep It 2.3 is now available. This version is updated for iOS and iPadOS 17 and macOS 14 Sonoma, makes improvements when adding web page text, allows you to search for prominent features in images, adds Live Text, Visual Look Up and the ability to copy the subject from images on macOS 14 Sonoma, improves working with attachments and links in notes on iPad and iPhone, and previewing Markdown documents.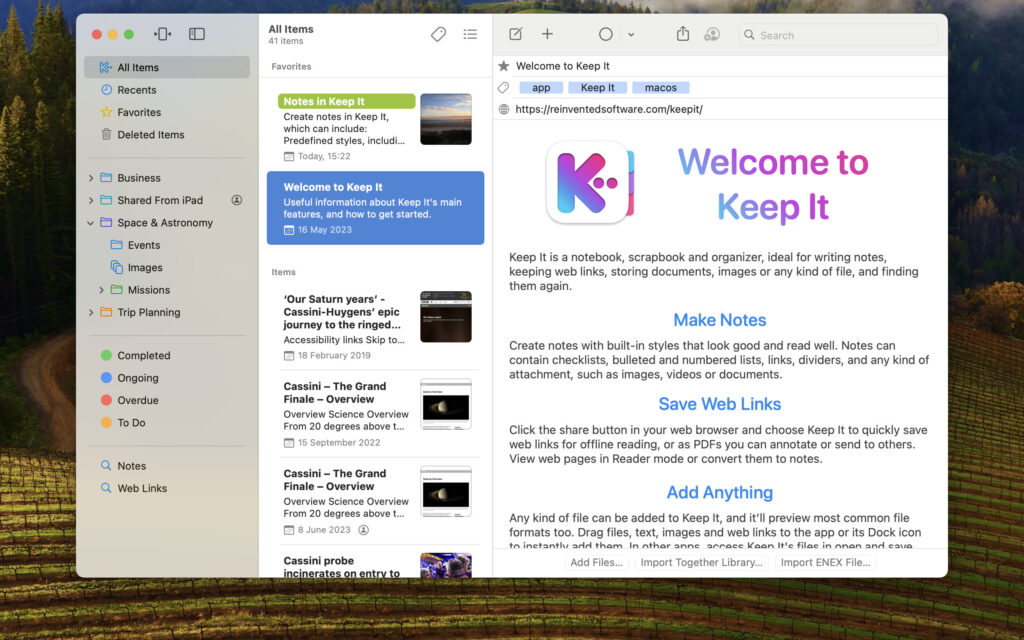 Adding Web Page Text
Web page text can now be automatically cleaned up when pasted, dropped, or added via the Services menu on Mac. Fonts, colors, and line breaks can all be adjusted, with settings for each. The Clean-Up Formatting feature also uses these settings, so any text that has previously been pasted and would benefit from this can also be cleaned up.
On Mac, where various browsers may copy text differently, there is an additional setting to reduce the font size; text copied from Safari and Microsoft Edge will benefit from leaving this enabled, while text from Chrome and Firefox will not. Keep It checks the default browser when it starts up and sets the default settings accordingly, but these can be overridden.
Images
In Keep It for Mac, standalone images now support Live Text on macOS Ventura and later, and Visual Look Up and the ability to copy a subject on macOS Sonoma. Also, on all versions of macOS, a toolbar is now shown above images in the main window for zooming and rotating.
Keep It can now find images by their prominent features when searching for content. A wide variety of subjects can be identified, including landscape features, buildings, animals, plants, machines, foods, and more. This feature applies to standalone images and attachments on notes, rich text documents, and mail messages in Keep It on all versions of macOS and iOS.
On iPad and iPhone, Keep It uses a new photos picker that allows access to more kinds of photos.
Notes
On iPad and iPhone, it's now possible to tap and hold on the Aa button above the keyboard to choose from saved note styles without needing to show the format view, and there are improvements when working with bulleted and numbered lists so that behaviour more closely matches how things work on Mac. On iOS and iPadOS 17 specifically, there are improvements for working with attachments and links in both notes and rich text documents.
On Mac, the compact version of the font button in the format bar no longer shows the font face name (for traits such as bold or italic) to prevent the other buttons in the format bar moving when a trait is chosen.
The photos picker will appear half-height when attaching photos to notes and rich text documents on iPhone, and will no longer appear as a popover on iPad. On macOS 13 Ventura and later, you can also use the same photo picker to attach photos and videos to notes and rich text documents.
On Mac, there are improvements when sharing notes to Mail, and when sharing notes to Reminders, Keep It will now exclude any attachments, to ensure the reminder created links back to the corresponding item in Keep It.
And More…
You can now use Quick Open on iPhone and on iPad without a hardware keyboard — tap the action button above the Lists view and choose Quick Open from the menu shown. Also on iPad and iPhone, when you open a link in one Keep It item to show another, a button will be shown to go back to the original item, and you can now see recents when inserting links to items. The default Markdown preview style now matches note styles. Pull to reload web links and Markdown previews on iPad and iPhone. Import folders without using drag and drop on iPad and iPhone. Keep It has also been updated to support changes to Stage Manager on iPadOS 17.
See the release notes for a full list of changes:
Pricing and Availability
Keep It for Mac is available for $59.99 directly from Reinvented Software or the Mac App Store, and both offer a free trial. Existing Keep It 1.x customers can upgrade for $29.99, unless they purchased Keep It 1.x in the 12 months before Keep It 2.0 went on sale, in which case the upgrade is free. Alternatively, Keep It for Mac is also available with yearly or monthly subscriptions at $19.99/year or $2.49/month only from the Mac App Store. Keep It for Mac requires macOS 12.0 or later.
Keep It for iPad and iPhone is available separately from the App Store with a choice of yearly or monthly subscriptions at $11.99/year or $1.49/month. Keep It for iPad and iPhone requires iOS 16.1 or later.