It's great to hear that Don McAllister is quitting his job at a corporate IT firm to focus on ScreenCastsOnline and his new EuroMac Podcast full time.
ScreenCastsOnline is an innovative video podcast that shows you how to use your Mac to its full potential. Each week Don guides you through something new, whether it's using RapidWeaver or how to get the best out of .Mac, and you can watch how it's done on your screen or iPod.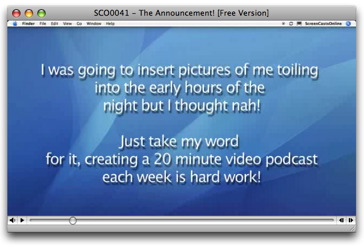 Don has found that it takes a lot of hard work to create and maintain the show and that if he wants to take it to the next level and have any kind of work/life balance, he needs to do it full time. I fully understand!
To achieve this Don is now adding Extra! subscriptions that provide exclusive premium content, the ScreenCastsOnline DVD, high definition versions, ad-free shows, monthly newsletters and much more. Check it all out at ScreenCastsOnline.
Best wishes and congratulations to Don for making the jump!
Update: Great to hear Don on DSC #359 and Adam being so encouraging about Don's plans.