You might have noticed the sidebar on this blog change lately. Now there is a calendar, the latest three items from my product news RSS feed and generally it's been tidied up.
If I wanted to, I could completely rearrange the sidebar in a minute without needing to hack any code. That's because this blog is now using the WordPress Widgets plugin that has been trialled on wordpress.com blogs since earlier in the year.
Using these widgets is really simple: you just drag and drop them into the order you want. The best part is that you can customise widgets to your liking.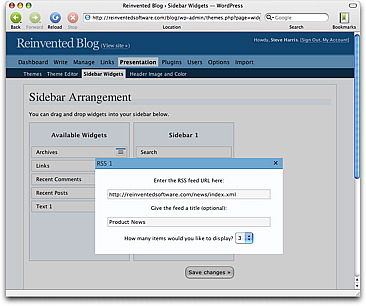 There are many more widgets than the ones you see on my blog, such as Recent Posts and Comments, Free Text widgets for adding any sort of text to the sidebar, Links, Archives and so on. Plus, anyone can create widgets to do other things.
My favourite is the RSS widget (obviously). It allows you to incorporate the content from another feed into your sidebar. You can set a title for the feed, choose how many of the items to show, etc.
If your WordPress 2 blog uses the default WordPress theme, or a theme based on it, chances are the Widgets plugin will just work. All I had to do for this blog was tweak the HTML generated for the search field. Widgets are cool.
And if you ever want a free, hosted WordPress blog I can fully recommend checking out wordpress.com and if you want to host a blog yourself, wordpress.org.