Have you ever wanted to put a gallery of photos on your site for people to see? InstantGallery, a new app from ThinkMac Software, makes it easy – just drag and drop images and in an instant you have a gallery to publish on the web.
What's more, InstantGallery can generate photocast feeds, comes bundled with a collection of elegant themes and has all sorts of other thoughtful touches.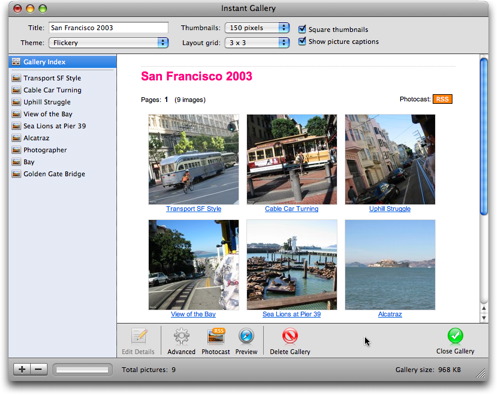 I've been lucky enough to play around with InstantGallery prior to its release and think it's a really cool little app just dripping in potential. And at only $15, it's a bargain too.
Check out the screenshots, sample galleries and demo movie on the InstantGallery page and good luck to Rory with this new application!
Update: Don't just take my word for it, check out this great review at Tera and Bambi's Mac360!