It's great to see KIT featured on Apple's Productivity Tools Hot Picks and I've received some great feedback about the changes in the new version too. All this is a relief after such a hiatus!

Anyway, I just remembered that I still haven't blogged about the new site, i use this. The newest and coolest kid on the block, this site has been described as a cross between MacUpdate and Digg, but I don't think that description really does it justice. In any case, it's very Web 2.0.
On the site, currently Mac OS X only, is a list of apps. If you use the app, you can click "i use this" to show you like and use it. All users keep a list of apps of their own, you can see who uses a particular app and apps can be tagged so you can find similar ones. Plus you can build a network of friends, see what they use, and there are RSS feeds aplenty too.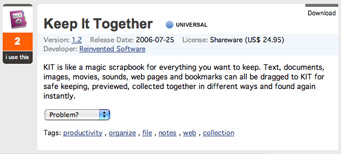 All this makes it such a different approach to traditional download sites with their flakey search, rigid categories, random reviews and ratings and download figures that may bear no resemblance to how many people actual really like and use the app every day. It's also so quick and simple to show what you like that's it's actually a lot of fun, and you can see what's hot that day too, making it great for finding new, happening stuff.
Right now, the site is in beta but working well and growing quickly. I only added Keep It Together yesterday and Feeder is on there too, both could do with a bit of a boost. 😉
… Done it yet?