Potion Factory released Tangerine! 1.0 today. In case you missed it, Tangerine! first burst onto the scene back in October as a public beta and made quite an impact.
Tangerine! is an application for generating iTunes playlists based on the BPM (Beats Per Minute) and intensity of your music library, making it ideal for creating workout playlists or a compilation of chill-out tunes.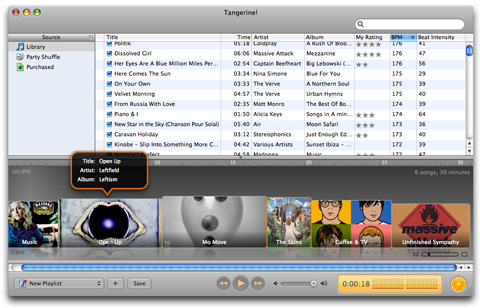 What makes Tangerine! really special is the implementation; it's full of thoughtful touches making it simple to use and understand: click the Add button, choose a duration, tempo and intensity and Tangerine! will generate a playlist. You can then see each track's BPM and duration represented with its artwork. Very effective.
I was lucky enough to get to help test out Tangerine! before it was released, and in order to do that properly, decided to go back to the gym. If you've ever tried working out to music, you'll know that it has to be right – too slow or soft, it feels like running through treacle. Analysing BPM like this isn't an exact science, and boggles this developer's mind, but Tangerine! does an excellent job on my diverse music collection.
Of course, there are more uses for Tangerine! – sometimes you might just want to listen to slower tunes to take it easy, or keep your music upbeat while you work. Tangerine! can oblige with a few clicks of the mouse.
Tangerine! is priced at $24.95 and a 15-day trial version is available for download from the Potion Factory web site. Check it out.