I appear as a guest discussing Search Kit, the framework for indexing and searching files and text on episode 14 of the Late Night Cocoa podcast, out now.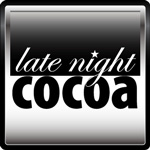 For anyone who doesn't know, Late Night Cocoa looks at a different topic every week with a guest developer and is suitable for both novice and experienced Cocoa developers. It stands out because its host, Steve Scott, aka Scotty, does an excellent job producing a podcast that is not only useful and informative but also sounds good too. A lot of work goes in behind the scenes to make that happen.
And, as always with a podcast, you can listen to what you want when it suits you, so if one topic doesn't interest you, there are bound to be plenty more that do. So if Cocoa development interests you, check it out.