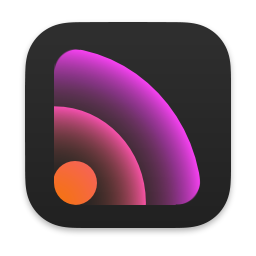 Feeder 4.1 is now available. This version introduces rich text editing, a format bar for working with rich text, HTML and Markdown, updates Sparkle appcasting, and includes various other improvements.
Rich Text Editor
Feeder 4.1 now includes a rich text editor, which supports headings, images, bold, italic, underline, strikethrough, links, bulleted and numbered lists, and horizontal rules. This is probably as much as most RSS readers support, and far more than the paragraphs, links, and lists supported by Apple Podcasts.
While you can never be sure how your feed will appear in all the apps out there, Feeder's preview will show you how it will most likely appear in an RSS reader, and exactly how a podcast episode will appear in the Podcasts app.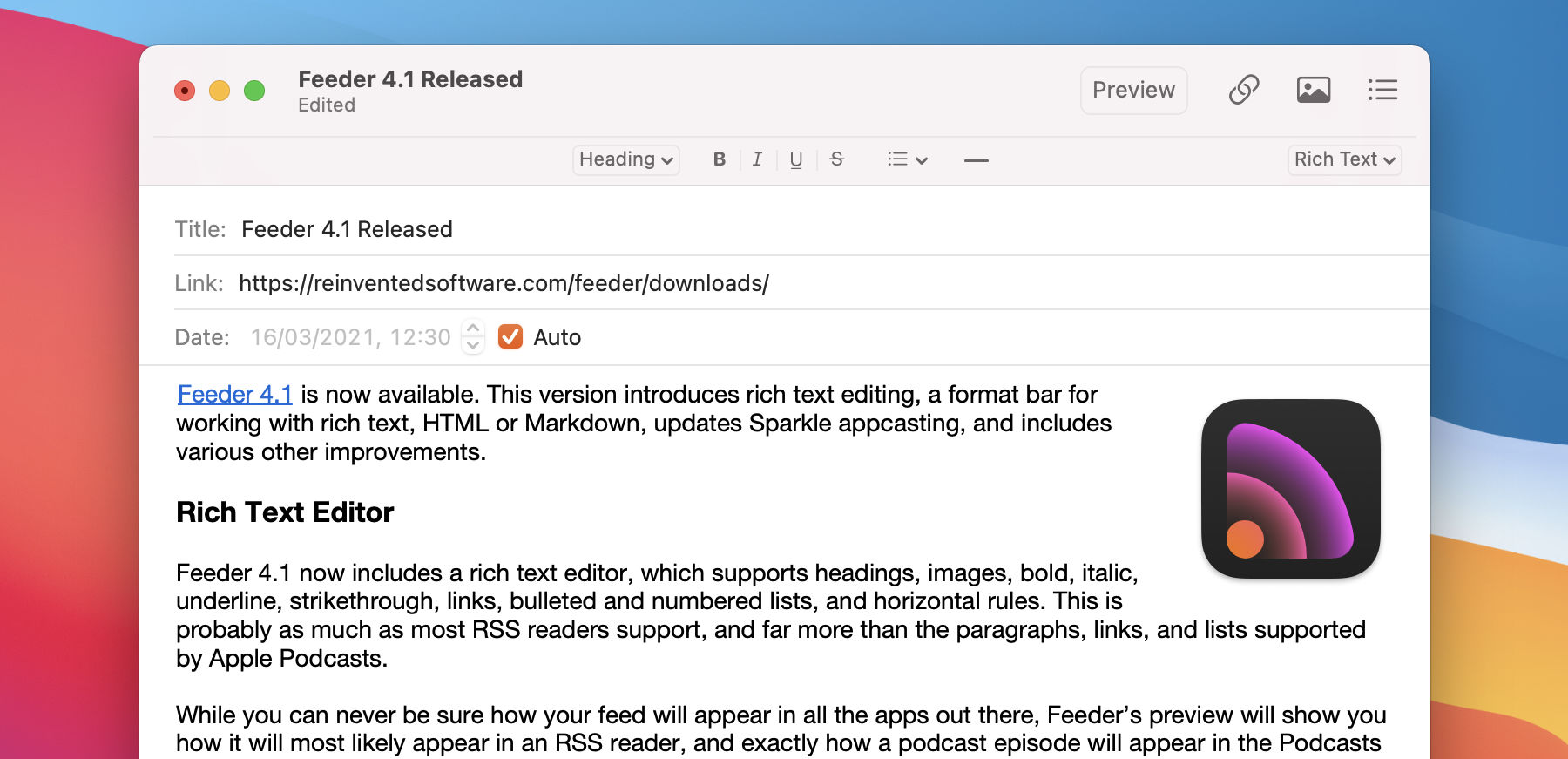 The new format bar can apply formatting or tags when editing in rich text, but also HTML and Markdown. It also allows you to switch between different formats.
Rich text editing will be used by default for new feeds; existing feeds, whether those already in Feeder, or ones you import will use "Automatic Line Breaks".
Sparkle Appcasting
Version 2.0 of the Sparkle framework has been in beta for a few years, but it is now the main focus of development, and required for sandboxed apps. Newer version 2.0 betas support EdDSA signatures, and indeed require them in some circumstances.
Feeder allows you to choose a Sparkle framework version to ensure your feed works correctly: previously using the 2.0 beta required you select "v1.6+ or 2.0 beta", but now that can be set to "1.21+".
Changing the framework version so that EdDSA keys are required will cause Feeder to show validation errors for any items that do not have them. For items that are still required in the feed (because they provide an update to an earlier OS), edit the items to generate EdDSA signatures, and remove any other items that have been superseded by later releases.
And More…
When finding and replacing links it's now possible to target either all items in a feed or only the selected items. Fetch dimensions when inserting images. Recent links to images are now shown better in the menu you see when clicking and holding on the Insert Link button. There are also some layout fixes for standard preview and the order of shared feeds in the sidebar is now always preserved. See the release notes for a full list of changes.
Pricing & Upgrades
Feeder 4 is $39.99 and is available from Reinvented Software and the Mac App Store. Feeder 3 users can upgrade for $19.99 unless you purchased Feeder 3 in the last year, in which case it is a free upgrade. Upgrades are only available from Reinvented Software, not the Mac App Store. See the Feeder support page for more information about upgrading from Feeder 3.