Recently Apple announced Podcasts Subscriptions, which are now live in macOS 11.4, iOS, iPadOS and tvOS 14.6, and watchOS 7.5. Feeder 4 has some changes to help people who want to offer podcast subscriptions in Apple Podcasts, and to handle HTML links in show notes with the latest Apple Podcasts redesign.
Apple provides two ways to offer alternative versions of episodes without subscribers seeing the freely available versions as duplicates. Feeder supports both these methods.
Matching Type, Season and Episode Numbers
If your podcast is a Serial or an Episodic podcast that includes Season and Episode Number tags, you will not need to do anything different in Feeder, apart from make sure the numbers match the episode in Podcasts Connect.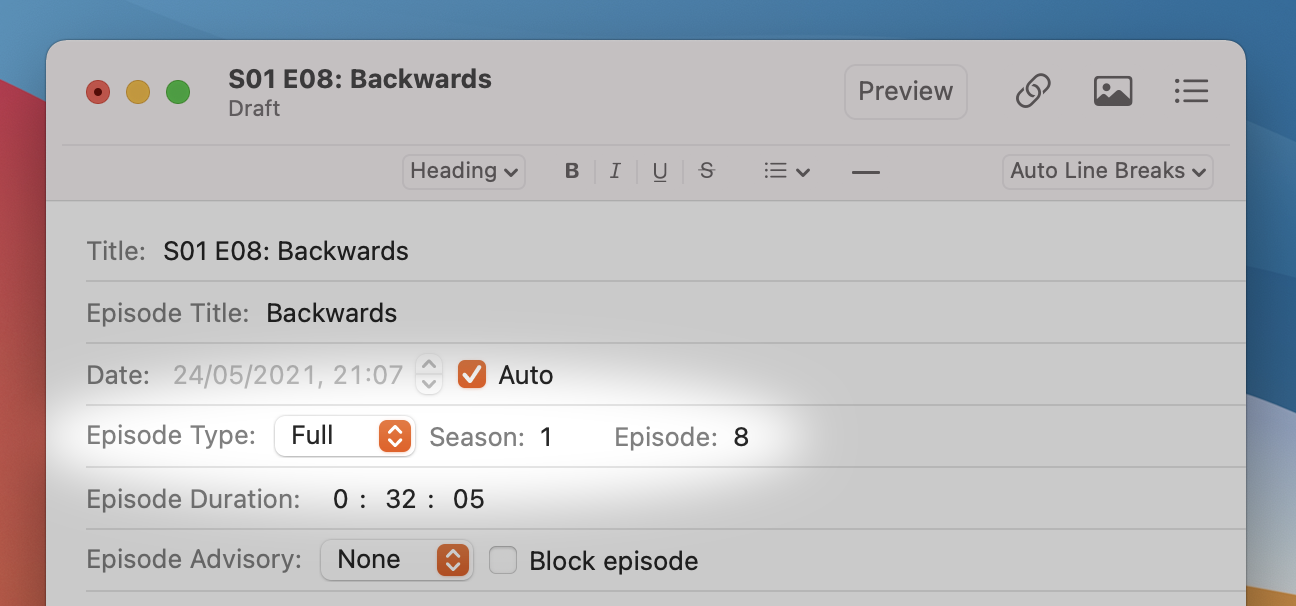 Serial podcasts show the Episode Type / Season / Number fields by default. If you want to use these for your Episodic podcast, you can show the fields:
While editing an item, choose Editor > Edit Template from the menu
Scroll down to the Apple Podcasts section
Click the checkbox next to Episode Type
Click Save
Using the Apple Podcasts Episode ID as the GUID
If your podcast is not a Serial or Episodic podcast that uses season and episode numbers, you can set the episode's GUID to match the Apple Podcasts Episode ID, which you can get from Podcasts Connect after uploading your subscriber audio there.
In Feeder, the GUID is called the Unique ID. Feeder automatically generates a Unique ID for each item in the feed. The Unique ID field is normally hidden; to show it, while editing an item:
Choose Editor > Unique ID > Show Unique ID from the menu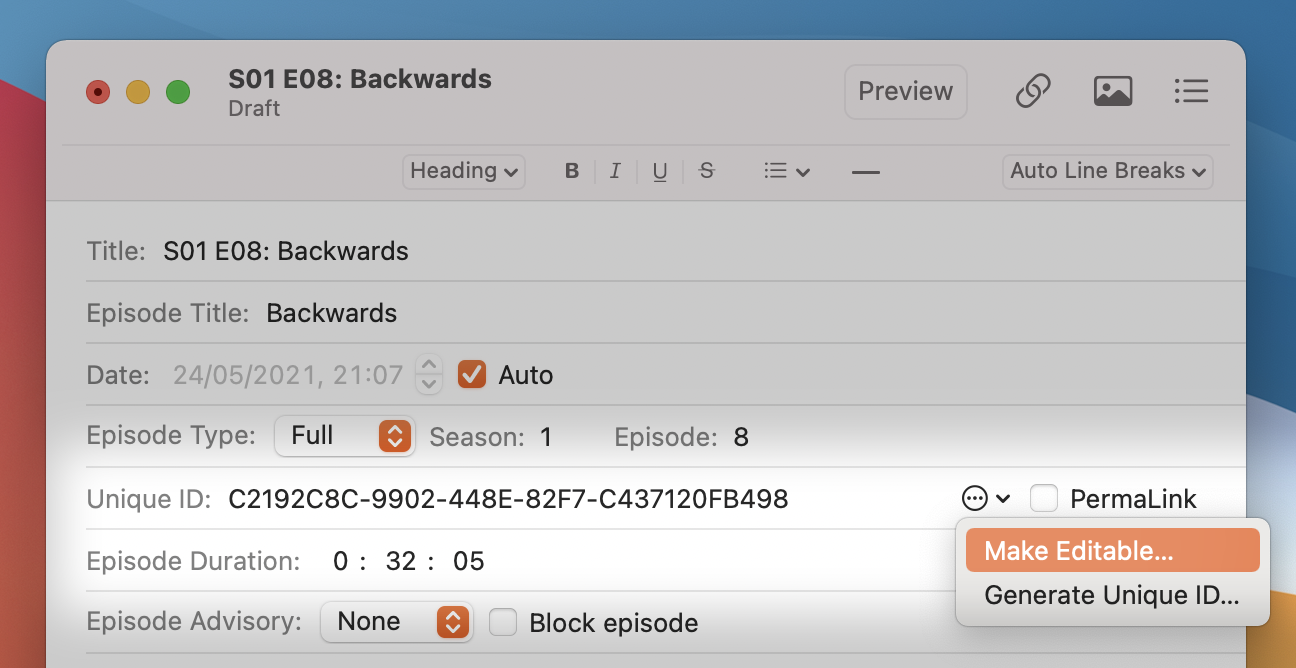 The Unique ID is not editable by default, because if it's changed for an item that has already been published, your episode will appear as a duplicate. To edit the Unique ID:
Click the action button next to the Unique ID field
Choose Make Editable from the menu shown
If the item has already been published, Feeder will show a warning.
Formatting Show Notes
Update: From July 1, 2021 this issue has been fixed in Apple Podcasts.
Apple Podcasts no longer uses any HTML in your show notes, but other podcast apps might. That means that links in the show notes won't be active in Apple Podcasts unless they literally appear as URLs.
If necessary, Feeder can create a version of your show notes just for Apple Podcasts in the Episode Summary, which is an alternative to the Description.
When a podcast episode has an Episode Summary, Apple Podcasts shows that instead of the Description. This means you can keep your Descriptions as before, and use Episode Summary to provide a plain text version for Apple Podcasts only.
Feeder can convert HTML in the Description to plain text, expanding links that otherwise wouldn't appear clickable. The links will be shown in brackets alongside what would normally be the clickable text.
To show the Episode Summary, while editing an item:
Choose Editor > Show Episode Summary from the menu
You can now switch between the Description and Episode Summary fields using the buttons above the text area.
To have Feeder insert a plain text version of the Description with links expanded:
Choose Editor > Episode Summary > Insert Description With Links from the menu
You can see how your podcast will look in Apple Podcasts and other apps using Feeder's preview.
Click the Preview button in the editor window toolbar
Use the pop-up below the preview to switch between the Podcasts and Standard previews.