This is the fifth post in a series highlighting some of the new features and improvements in Together 2.0 – formerly known as KIT.
So far we've covered lots of functionality you can see, such as how files can be organized, edited and viewed. This post is about some of the things you can't see.
Encryption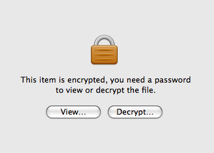 Firstly, things you don't want other people to see: Together can now encrypt files. Click the Encrypt button in the toolbar, enter a password and Together will encrypt the file or files and store the data in its database.
Once encrypted, you can either view the file temporarily or decrypt it entirely. Both operations will require the password. Be aware that if you forget the password, you won't be able to open the file.
Core Data
Together uses Apple's Core Data technology for its database. The original document files remain on disk as before, but Together now has a robust, high-performance database keeping track of them all.
If one thing that surprised me in feedback emails about KIT, it was the number of files people would put in it. Emails along the lines of "I just imported 10,000 files into KIT and it's slowed to a crawl" left me unsure whether to laugh or cry. I designed KIT to be good for about 1,000 items although I heard of people who managed with more than that. You may think I was naive but I never expected people to dump everything into it, as its design (e.g. no hierarchical folders) discouraged that.
KIT didn't keep much data about files, using the file system for most it, but indexing and sifting through those for things like smart groups could seriously slow things down. If you had thousands of files or some complicated smart groups, KIT's could grind to a halt. Now performance for large volumes of data is much improved.
Together is a very "live" application and needs to react in many ways to changes in its data (e.g. by updating smart groups). People expect those reactions to be instantaneous. However, reacting to changes instantly is much less efficient than batching them together, especially as one change can often trigger others. Together has been designed to group changes together and is much more responsive as a result.
With performance though, there's always room for improvement and I'm working on some of those right now.
Multiple Libraries
With KIT, you could store your KIT library in different places to the default and this became a workaround for having multiple KIT libraries. However, it was clumsy to use for that purpose. Together comes with a Library Manager for creating and switching between different libraries. Find it in the Together menu.