Saturday, September 16th, 2017

Keep It is for writing notes, saving web links and documents, and finding them again. Available on Mac, iPhone and iPad, Keep It is the destination for all those things you want to put somewhere, confident you will find them again later.
Keep It is designed to be effortless and can handle whatever you throw at it — make notes for that idea you need to save, or list you need to make, and save interesting web pages as links or PDFs for offline viewing. Keep It can edit its own notes, along with rich and plain text files, and can store any kind of file. Keep It will show summaries, thumbnails and previews for most file formats. Keep It can use iCloud to make your library available on Mac, iPad and iPhone.
Keep It provides the simplicity of a notebook with the power of an organizer. Nothing in Keep It needs to be filed anywhere — its Recents list shows both things you've added lately across all your devices, and things you've changed, newest first. Keep It can help you get organized when you need it, with folders, which work as you would expect, and bundles that can be used to collect items into virtual piles where, unlike folders, items can be in more than one bundle at a time. For quick visual recognition, colored labels will grab the eye, and tags and comments can help you find things later.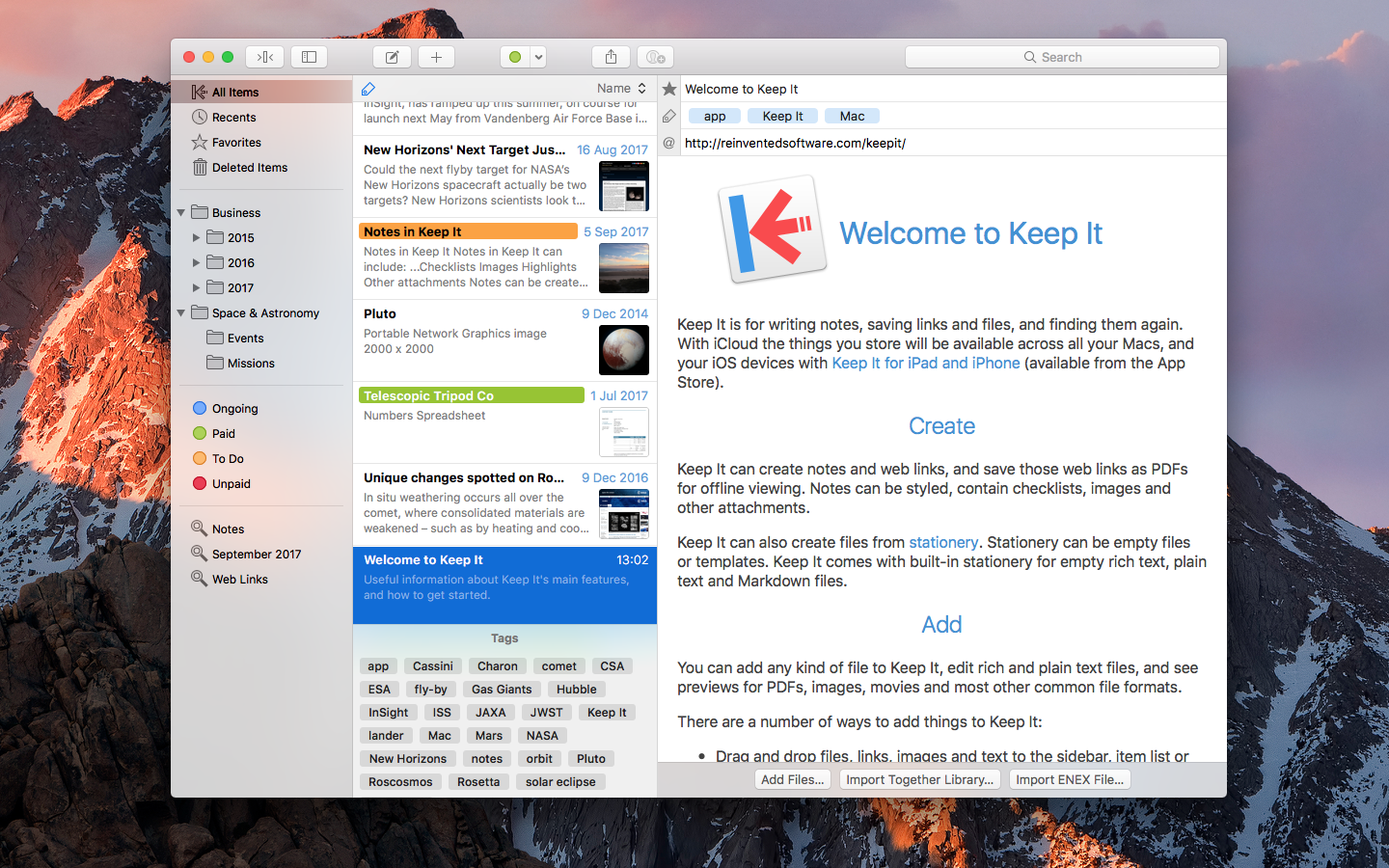 Keep It can search as you type, with suggestions to help narrow things down, whether by name, kind, date, tags, content and so on. Its innovative tag filter lets you drill down to items with any or all of the selected tags with a tap or click.
Keep It can be where you need it, in more ways that one. In Compact Mode its window will reduce to a single column, ideal for using alongside other apps or in split screen. Keep It provides a share extension for adding text, links, images, and other files to Keep It, and can append text to notes.
Keep It works with the apps you know and love. Too many apps lock your stuff away in databases, and often aren't great when you need to get that stuff back out again. Keep It for Mac stores the original files in folders that match what you see in the app, and you can open and edit those files in their original apps, search them with Spotlight, back them up with Time Machine, and so on. On iOS, Keep It's document picker lets you access everything in Keep It and save documents directly to Keep It from within other apps.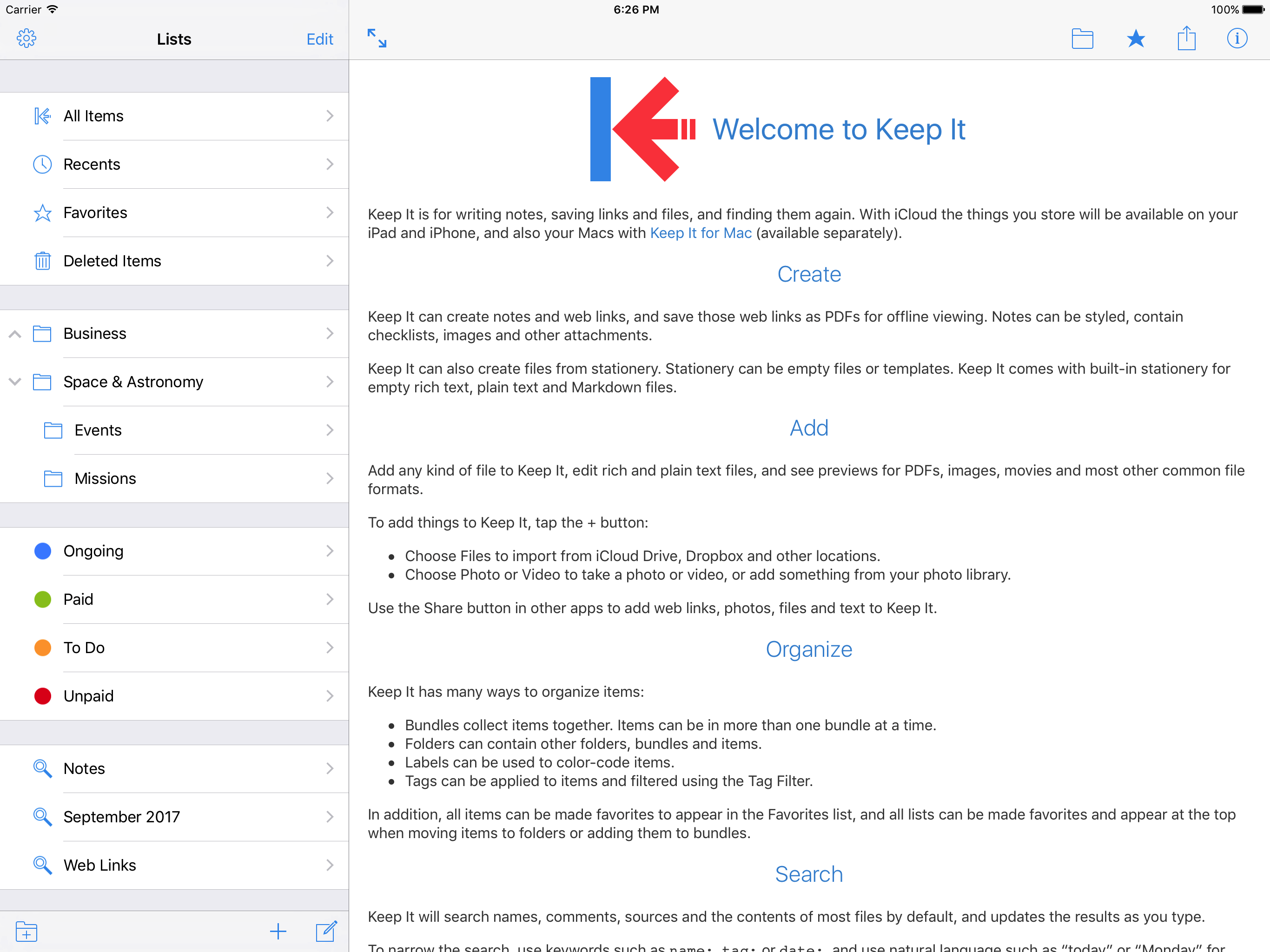 Here is a summary of its main features:
Notes
Create notes with built-in styles that look good and read well on all your devices. Notes can contain checklists, bulleted and numbered lists, images, links and other attachments.
Web Links
Save web links to Keep It, view them in the app, open them in your browser, or save them as PDFs for offline reading.
Files
Add other files to Keep It, view them in the app and open them for editing in their original applications. All changes can be saved to iCloud and made available across all your devices.
iCloud Sharing
Add people to items and share them via iCloud. Any changes they make will be automatically shared with all participants.
Info
All items can have tags and comments, along with color-coded labels for quick visual recognition, plus automatically generated thumbnails and summaries where appropriate.
Folders
Folders let you organize items and bundles when needed. Select a folder to see everything it contains.
Bundles
When you need to see things in one place, make a bundle. Items can be in more than one bundle at a time, and when you remove the bundle, everything else stays where it was.
Lists
Use the Recents list to see things you've added or viewed lately, with the latest shown at the top. Favorites provide quick access: swipe right to favorite items. Deleted Items shows the most recently removed at the top, and these are permanently deleted after 30 days.
Search
Most file types can be searched as you type. On Mac, suggestions help you narrow things down to exactly what you need. Use keywords and natural language for dates. Searches can be saved for later reuse.
Tags
The Tag Filter shows all the tags attached to the currently visible items, whether. Select tags to filter the list to just the items you want to see.
Compact Mode
In compact mode, Keep It for Mac will become a single column, ideal for using alongside other apps or in split screen.
Adding from Other Apps
Pretty much anything can be dragged to Keep It for Mac, and you can also add text, links, images and other files from a variety of apps with its Share extension. Keep It for iPad and iPhone also provides a Share extension wth identical capabilities, along with a document picker for accessing files in Keep It and saving files to Keep It from within other apps.
Moving to Keep It
Keep It can import files and folders, converting text files to notes if desired, and can also import Together libraries and Evernote ENEX files.
Pricing & Availability
Prices vary by region; on the US App Store, Keep It for iPad and iPhone is $7.99/year, or $0.99/month. All subscriptions include a free trial and are billed to your iTunes Account. You will not be billed until the trial period ends, and you can cancel at any time up to 24-hours before the trial ends at no charge.
Keep It for Mac
Purchase a license for all Keep It for Mac version 1.x for $49.99. When version 2 is released, you will qualify for a half-price discount. A free trial is available from this site. Keep It is the successor to Together, and Together 3 users will be treated as though Keep It is a Together upgrade. Existing Together 3 users can move to Keep It for $24.99, or obtain a free license if Together 3 was purchased on or after February 17, 2017. See the support page for instructions.