Updated October 1, 2008 to reflect changes to Together and MobileMe (formerly .Mac) since version 2.1.
Together can now sync with MobileMe. Syncing can be enabled for a library by checking "Sync Library with MobileMe" in the Library Manager panel (choose Together > Library Manager from the menu).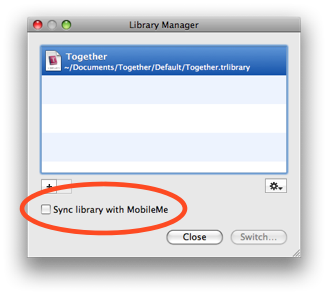 A synced library will merge with all other synced libraries, therefore only one Together library can be synced per Mac. Syncs will be performed according to your settings in the MobileMe System Preferences panel.
Files that are linked (i.e. the original file exists outside of Together's library) on a local Mac will be saved as copies in the LIbrary on a remote Macs.
Most other things that are synced to MobileMe with Apple's Sync Services are small pieces of information such a bookmarks and iCal events, rather than whole files. It works, but there are some things to watch out for:
You need enough free space on your iDisk to accommodate your library, with spare capacity for tracking changes. You can find out the size of your library by selecting all items in the Library group. The total size will be shown in the Info view.
Due to the way Sync Services works, Together's memory usage will temporarily swell by the size of your library while syncing and later on, one of the processes used during syncing (dotmacsyncclient) will temporarily consume memory that 3x the size of your library. Therefore, I would recommended not syncing a library if it is greater than about 20% of the memory installed on your Mac. So, for a Mac with 2GB installed, 400MB would be the limit.
Large files are also unsuitable for syncing. If you have files in your library that are more than a few megabytes in size, it's possible syncing will crash Together.
Finally, if you have a large library, the sync status icon in the menu bar will stop spinning after 10 minutes even though the upload could still be in progress. A process called dotmacsyncclient is responsible for sending the changes to your iDisk and you can see whether this is still running in the Activity Monitor app.
Here's a rough guide of how long it might take to perform the first sync:
Upload speed: 384 Kbps (47 Kilobytes/sec)
Library size: 100 megabytes
Upload time: 36 minutes
Future syncs will be faster as they'll only deal with the files that have changed.