Poster 1.0 is released today. Poster is an application for Mac OS X that provides a first-class experience for posting photos and videos to the web.
Until now, there hasn't been an ideal solution for uploading photos to the web. Uploading through a web page is usually a miserable experience. iPhoto and Aperture's support remains fairly basic, and everything else out there is clumsy to use or shows your photos as minuscule thumbnails. Plug-ins suffer from being trapped in a box, where you can't change your mind without losing what you've done so far and where every button feels like a terrible burden.
Poster explodes out of that box as a standalone app for uploading to multiple sites and accounts with a sleek design that not only lets you see your photos properly, but work with them effortlessly too. Working with Flickr and Facebook at launch, Poster takes a tailored approach that makes the most of each site's unique features.
For Flickr, Poster can post both photos and videos, auto-complete tags, allows you to create and choose sets, submit photos to groups, tag people and moderate your photos all within the app. Its All Items view lets you work with an entire set of photos as easily as just one.
On Facebook, Poster is able not only to post to your profile, but also any pages that you administer, making Poster ideal for anyone whose business, band or cause takes advantage of Facebook's massive user community.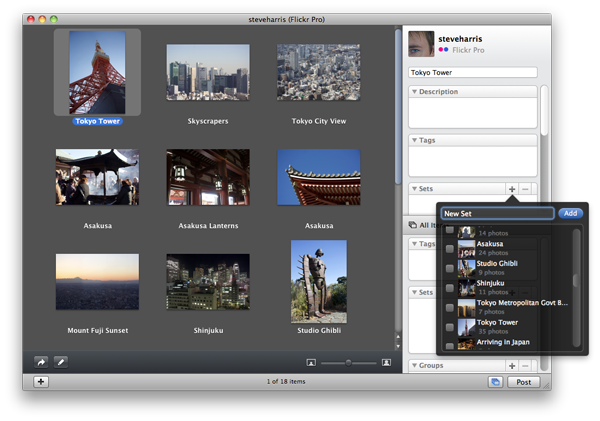 Poster works with the photo editing and management applications you use and can even perform some tricks of its own, such as rotating and resizing photos before uploading. As a convenience, plug-ins are provided for iPhoto and Aperture to launch Poster with the exported files.
The best part of Poster is that it is a pleasure to use. Packed with thoughtful touches, its understated design and tasteful animations are both intuitive and easy on the eye and its support for multitouch gestures and full keyboard navigation help make posting your photos and videos as enjoyable an experience as taking them.
Poster 1.0 requires Mac OS X 10.6 or later, and is available as a 15-day trial that can be unlocked upon purchase. A full license of Poster 1.0 costs $19.95.
Try Poster now: Poster.dmg