Poster 1.1 is available today. Poster is an app for posting photos and videos to the web. The latest version adds support for SmugMug, posting video to Facebook and improvements to people tagging, the iPhone and Aperture plug-ins, publishing and much more.
SmugMug
In addition to Facebook and Flickr, Poster can now post both photos to videos to SmugMug to new or existing galleries, including unlisted and password protected galleries.
SmugMug is a photo sharing site with many great features for all kinds of photographers, including fully customizable themes, HD video, comprehensive privacy options, the ability to create prints and books and even a full commerce system for professional photographers that want to sell their work.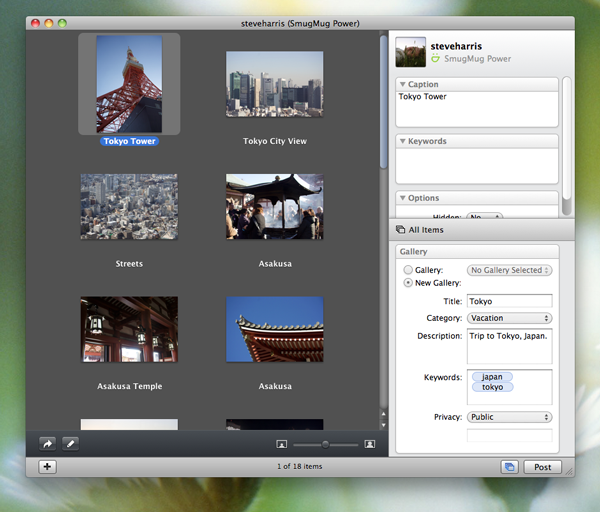 Facebook Video
Poster 1.0 could already post photos to Facebook profiles and Facebook pages (the ones you "Like"), and version 1.1 adds the ability to post videos to your wall too.
Plug-In Improvements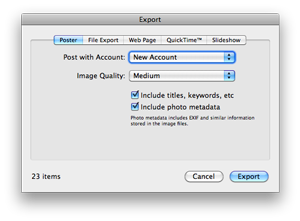 Poster's plug-ins for iPhoto and Aperture have been improved. Both can now send information such as titles and keywords to Poster when exporting and the iPhoto plug-in gains the ability to choose an export quality for images.
And More!
People tagging has been made easier to use and can now stay in tagging mode when navigating between photos, there's a new "Only Me" privacy option for Facebook and posting has been made less disruptive with progress and completion indicators displayed in the Dock icon, rather than an alert sheet that demands immediate attention.
Poster 1.1 requires Mac OS X 10.6 or later, is a free upgrade for all Poster 1.0 users, and is available as a 15-day trial that can be unlocked upon purchase. A full license of Poster 1.1 costs $9.95 and is available directly from Reinvented Software and the Mac App Store.