Feeder 3.0 is now available with a brand new look, thumbnails and previews in the list, Markdown editing and autosave. Feeder's library and feeds can now be shared with cloud services such as iCloud Drive and Dropbox, and feeds can be shared with others in a self-contained format that preserves all the publishing settings.
Over the last 10 years, Feeder has proven itself to be one of the best ways to publish RSS feeds and podcasts, and Feeder 3 improves on this in every way, but does so in a way that feels completely familiar.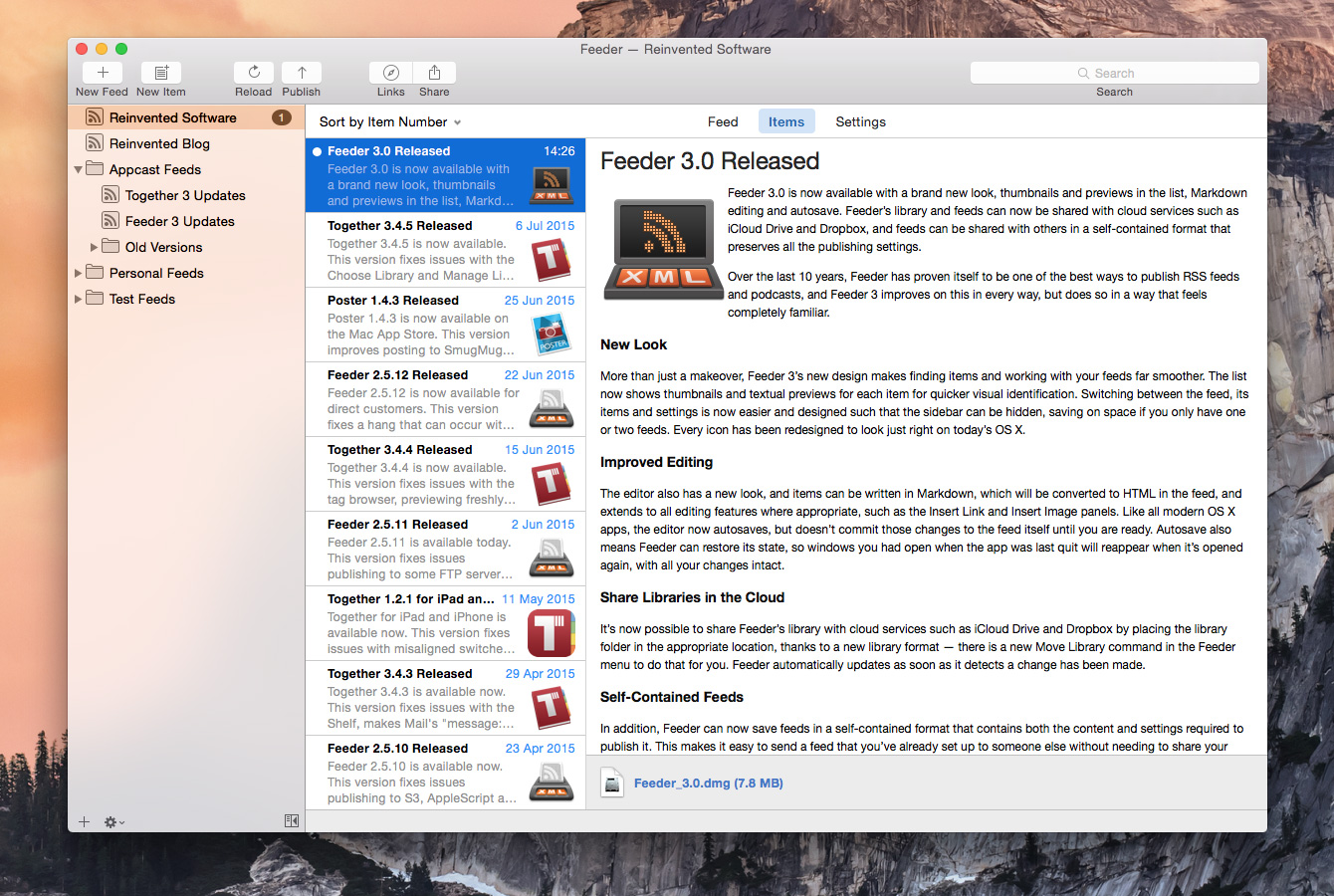 New Look
More than just a makeover, Feeder 3's new design makes finding items and working with your feeds far smoother. The list now shows thumbnails and textual previews for each item for quicker visual identification. Switching between the feed, its items and settings is now easier and designed such that the sidebar can be hidden, saving on space if you only have one or two feeds. Every icon has been redesigned to look just right on today's OS X.
Improved Editing
The editor also has a new look, and items can be written in Markdown, which will be converted to HTML in the feed, and extends to all editing features where appropriate, such as the Insert Link and Insert Image panels. Like all modern OS X apps, the editor now autosaves, but doesn't commit those changes to the feed itself until you are ready. Autosave also means Feeder can restore its state, so windows you had open when the app was last quit will reappear when it's opened again, with all your changes intact.
Share Libraries in the Cloud
It's now possible to share Feeder's library with cloud services such as iCloud Drive and Dropbox by placing the library folder in the appropriate location, thanks to a new library format — there is a new Move Library command in the Feeder menu to do that for you. Feeder automatically updates as soon as it detects a change has been made.
Self-Contained Feeds
In addition, Feeder can now save feeds in a self-contained format that contains both the content and settings required to publish it. This makes it easy to send a feed that you've already set up to someone else without needing to share your entire library or help them set up publishing from scratch. As with shared libraries, these contain everything apart from your passwords, which are kept securely in your Keychain.
Publishing
Feeder now shows progress in the Publish toolbar button, and clicking this will show more detailed progress in a popover. When a library is being shared with many Macs, only one will publish scheduled feeds, and you can choose which in Feeder's preferences. It's now also possible to run an AppleScript, Automator workflow or Unix shell script after publishing has completed to perform additional tasks.
And Much More…
Find and replace all links in a feed, see servers, ping services and blogs together in the new Servers window, and Quick Look previews for attached enclosure files are just some of the many other things in this version.
Just about every part of the app has been tweaked and refined, including the things you don't see. OS X has moved at a blistering pace over the last few years, Feeder 3 not only brings the app up to date on the surface, but also under the hood to take advantage of Apple's latest innovations and lay a solid foundation for the future.
See the release notes for a full list of changes and some useful information about them.
Availability
Feeder 3 costs $49.99 for new customers, $24.99 for those upgrading from Feeder 2 and is available exclusively from Reinvented Software. Free upgrades are available for anyone who purchased Feeder 2 after the release of OS X Yosemite on October 16, 2014, regardless of whether they purchased the app through the Mac App Store or directly from Reinvented Software.
Feeder requires OS X 10.10 Yosemite or later. A fully-featured 15-day trial is available to download and try out the new features. Your Feeder 2 library will be preserved should you decide not to upgrade.
With this release, I have decided to stop offering Feeder for sale on the Mac App Store, so can offer the same upgrade deal to all customers, along with the fastest updates and best service I can possibly provide.