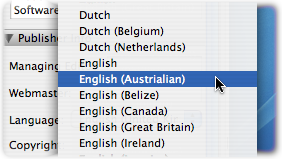 This isn't the first time I've managed to potentially offend an entire nation and maybe it's not as bad as when I left Swedish off the list entirely. However, I received an email from Down Under, where Ian Graham of Lane Realty had this to say:
In supported languages, it should be English (Australian) NOT Austrialian. C'mon cobber, for a true blue bit of clobber like this you've gotta be dinki-di 🙂
I can only apologise. I blame a subconscious bitterness that many, many years ago some fool decided to set up a penal colony on a beautiful and sunny continent, while us whinging poms were left to eat potatoes back here in grey old Blighty. It should have been the other way around. Perhaps our Australian cousins were taught how to spell whilst in prison. There I go again! Sorry. 😉
Before I do any more damage, I should say that Feeder 1.0.4 is released today to fix this problem and a couple of other things.
Thanks, Ian, for letting me quote you here.