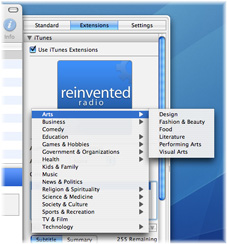 Feeder 1.3.5 is now available and this includes support for the new iTunes podcast categories Apple introduced with iTunes 6.0.5 last week.
Feeder will upgrade any existing categories using the same mappings as FeedBurner, so all you need to do is publish your feed again. You may want to review the new categories to see if any of those fit your podcast better – you can do this in the iTunes section of the Info drawer.
Apple says it could take up to two weeks for changes to your categories to take effect in the iTunes Music Store, so bear that in mind when checking your changes. It also appears to be taking some time for the new categories to be populated, but I understand Apple is working on that.
FeedValidator has also been updated to support the new categories, so if FeedValidator says your feed is valid and you are having problems with the iTunes Music Store, your best course of action is to check Apple's Producing Podcasts discussion forum, otherwise please get in touch.