Together 2.1 is released today. This is a large update that includes the most-wanted feature requests following version 2.0, along with some great new features to help make Together easier and more useful. You can download the latest version here.
Sync, AppleScript, Web PDFs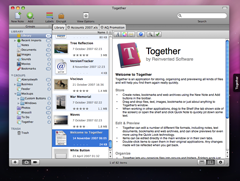 Together can now sync its library with .Mac, includes AppleScript support and a new way of saving web pages – as PDFs that look identical to the original page, with background images, clickable links and no pagination.
Shelf Improvements
The Shelf has seen a number of improvements, including a new Favorites section, where you can drag groups and items from Together's library for quick access, Quick Look previews, so you don't need to go back to Together to see the content of a file, the ability to tag and group Quick Notes and the option to hide the Shelf tab, so it will open when the mouse moves to the edge of the screen.
Organizing
Smart groups become more useful with the ability to only search specified groups instead of the entire library. With group tagging, Together can automatically tag items added to groups and you can now copy or drag clickable links to Together items to other applications.
Import
Together's import features have been extended considerably. For starters, Together can now automatically import any files saved in its library folders. There is a new global Import Hot Key for importing files from the Finder, URLs from web browsers and email messages, and there are now bookmarklets for Together, so saving a web archive, PDF or bookmark from your web browser is one click away.
For further integration with Spotlight and other applications, Together can now import files' Spotlight comments and keywords as tags and export items' Together tags back to the original files' Spotlight comments in the Finder.
Library and Previews
Together's user interface is now more customizable, with a choice of icons sizes for items and groups and preferences for the various different previews. Together can now also generate thumbnail icons for web archives and bookmarks.
The Portrait-orientation Info view has been improved so you can see an item's basic information and its tags, comments, or groups at the same time and the tag browser now has options for which system tags to show.
These are just a selection of more than 60 new features and improvements in this version. The Release Notes page tells the full story and I will be posting more information about these new features over the next few days.