Together 2.6 is now available. This version includes an updated design, Retina graphics, improvements for working with linked files, email indexing and more and prepares the app for OS X 10.8 Mountain Lion.
User Interface
With the introduction of Retina displays and OS X 10.8 on the horizon, the time felt perfect to update Together's user interface.
Lion softened the look of buttons in the toolbar and with the majority of Together users now using Lion, Together's toolbar now takes advantage of that style.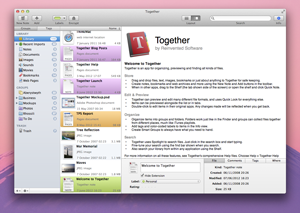 The status bar has been removed, with layout and info buttons from the status bar now in the toolbar. The source list on the left gets its own function bar below and buttons to switch between groups and tags above.
Most of the individual preview toolbars have also been removed, and the ones that remain (for bookmarks and web archives) have been simplified. New optional toolbar items are provided to serve the most common functions, such as showing the fonts panel and highlighting text.
All these changes provide more room for content and make more use of the underused toolbar.
In addition, the new Labels toolbar item can now apply the last used label to selected items and there's a new item in the Items > Labels menu with a shortcut key to do that too.
Also, the groups list now comes in three sizes, and the File and Items menus have been simplified.
Linked Files
Together doesn't require you to store your files in its library, it can link to files in other locations. In version 2.6, the app can now also rename the original files when you rename items in Together.
Another new feature offer the reverse functionality: when you move items to Together's library, you can also choose to make aliases in the original locations. This feature also works for folders.
Other Changes
Normally Together uses Spotlight to search the contents of files, but issues with Spotlight and email messages require Together does its own indexing. Performance and memory use when indexing email files has improved considerably in Together 2.6.
Also, the Shelf can now be resized from all sides, support for the discontinued MobileMe sync service has been removed and the app icon has changed colors.
To see a full list of changes in Together 2.6 and to download a 15-day trial of the latest version, see the Together release notes page.
Version 2.6 is a free upgrade for all registered Together 2.x users. A full license costs $39.95 and upgrades from KIT 1.x are $14.95. Education and bulk discounts are also available through this site.