Together 3 is out today. Version 3.0 adds thumbnails, tab exposé, an inbox, stationery, navigation history, autosave and versions, along with improved favorites, previews and Shelf all wrapped up in a smart new design.
Oh, and the Mac App Store version can now share libraries with iCloud. Finally!
New User Interface
Together's user interface has been modernized and improved to make the app better in every way, while remaining familiar to anyone who's used it in the past.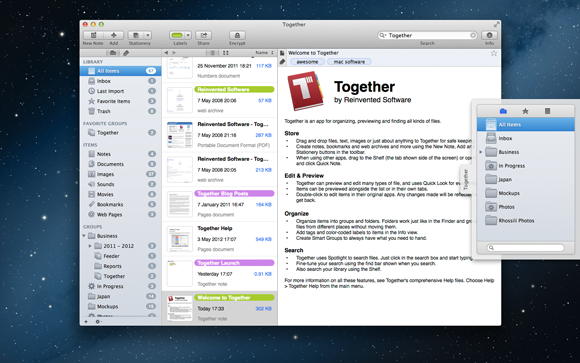 A reorganized sidebar puts what you need within closer reach. Together now has an Inbox for collecting imports that have not been added to any groups or folders, and favorite groups and items now appear in the sidebar too.
The item list now has a cleaner layout and the new thumbnails mode shows zoomable preview icons. Navigate the history of previewed items by swiping left or right, or using the back and forward buttons above the list.
Above the preview is a new customizable mini Info view, showing just the information you need, or you can hide the preview altogether and show Quick Look previews with the spacebar.
Tabs now span the whole width of the window, and tab exposé makes it possible to swipe through pages of tab thumbnails to find the one you need.
The Shelf has been completely redesigned with a lighter, cleaner look, improved Quick Look previews and rich text in Quick Notes.
Stationery
Create items of any file type with Stationery. Together comes with built-in options for plain text, RTF and RTFD files, but any file can be used as stationery. Stationery can be made available to all libraries or just the current library.
It's also possible to customize which type of document is created when pressing ⌘N. By default, this will be a new note, but any kind of global stationery can be used.
The Stationery Chooser can be used to browse, preview, reveal, rename and remove stationery items. Files can also be dragged here to become stationery and any item in Together can be saved as stationery too.
Info and Previews
The new mini Info view above previews always shows an item's name and can be customized to show tags, comments, dates, labels and ratings too. It's also possible to favorite items by clicking the favorite star next to the item's name. The mini Info view can be hidden altogether if not needed.
Full Info is now displayed as a popover, either from the Info toolbar button or alongside items in the list and also includes the Where list, showing every group and folder to which an item belongs. Select these to see their paths, double-click to show that group and select the item.
Each preview type now gets its own menu commands in the Preview menu. This allows for more shortcut keys, improved accessibility and easier discovery of features.
Edited items are now autosaved as versions that can be managed from within the app. Open tabs are now preserved across launches.
iCloud
The Mac App Store version of Together can now share libraries and stationery between your Macs with iCloud. Apple requires that all Mac apps that use iCloud are sold through the Mac App Store.
When you create a new library with the Mac App Store version of Together, you can choose to store it on your Mac or in iCloud. Libraries stored in iCloud will be available on your other Macs.
After that, you need do nothing. iCloud ensures all your files and Together's library is kept in sync whenever your Mac is online, so any files you add or changes you make will appear automatically on the other Macs a short time later.
Whether or not the current Together library is stored in iCloud, global stationery is always synced between Macs.
Sandboxing
The Mac App Store version of Together is now a sandboxed application. With advances in OS X, this now means very few other differences between the two versions:
It's no longer possible to store libraries on the Desktop, or link to files on the Desktop. Together will offer to move any such libraries / files.
Importing KIT (aka Together 1.x) libraries is no longer available (but can be done with the demo version from this site).
And Much More…
Just about every area of the app has been improved and you will notice there are as many small refinements as large ones.
Some examples: Groups can now be filtered, a new find bar for web pages and PDFs, improved highlighting for found text, dragging documents to notes inserts a hyperlink instead of embedding the file (reverse by holding on Option), relative dates are used in the item list and menus are clearer to navigate.
Also, what you see hides a multitude of changes below the surface, so that Together works as efficiently as possible and can continue to embrace the latest OS X technologies.
In many ways, Together 3.0 recaptures the simplicity of earlier versions while building on its almost decade-long legacy.
Upgrading
Together 3 is a paid upgrade from version 2.x. If you purchased Together from the Reinvented Software web site in the three months before its release, you qualify for a free upgrade to the new version from this site, otherwise an upgrade costs $19.99 and the full version will cost $39.99.
Free upgrades and discounts are not available for the Mac App Store version, but pricing on that version will also be reduced to $19.99 for a limited period following Together 3.0's release, however if you purchased Together from the Mac App Store in the last 4 weeks, please get in touch.
After that promotion has ended, the Mac App Store version will also cost $39.99. This gives customers who bought through the Mac App Store a chance to upgrade at reduced cost, and allow direct customers cross-grade to the Mac App Store version should they wish.
Please try it!
Finally, anyone can try out Together 3 before buying. A 15-day demo is available for download, and the same page shows the full list of changes. Together 3 requires OS X 10.8 or later.