Together 3.5 for Mac and Together 1.4 for iPad and iPhone are now available, with completely rewritten iCloud integration. Together 3.5 for Mac also includes swipe-to-delete for items, a new medium size for the portrait list and improvements for auto import, label creation and search, along with various other improvements. Together 1.4 also includes a document picker for accessing Together libraries in other apps.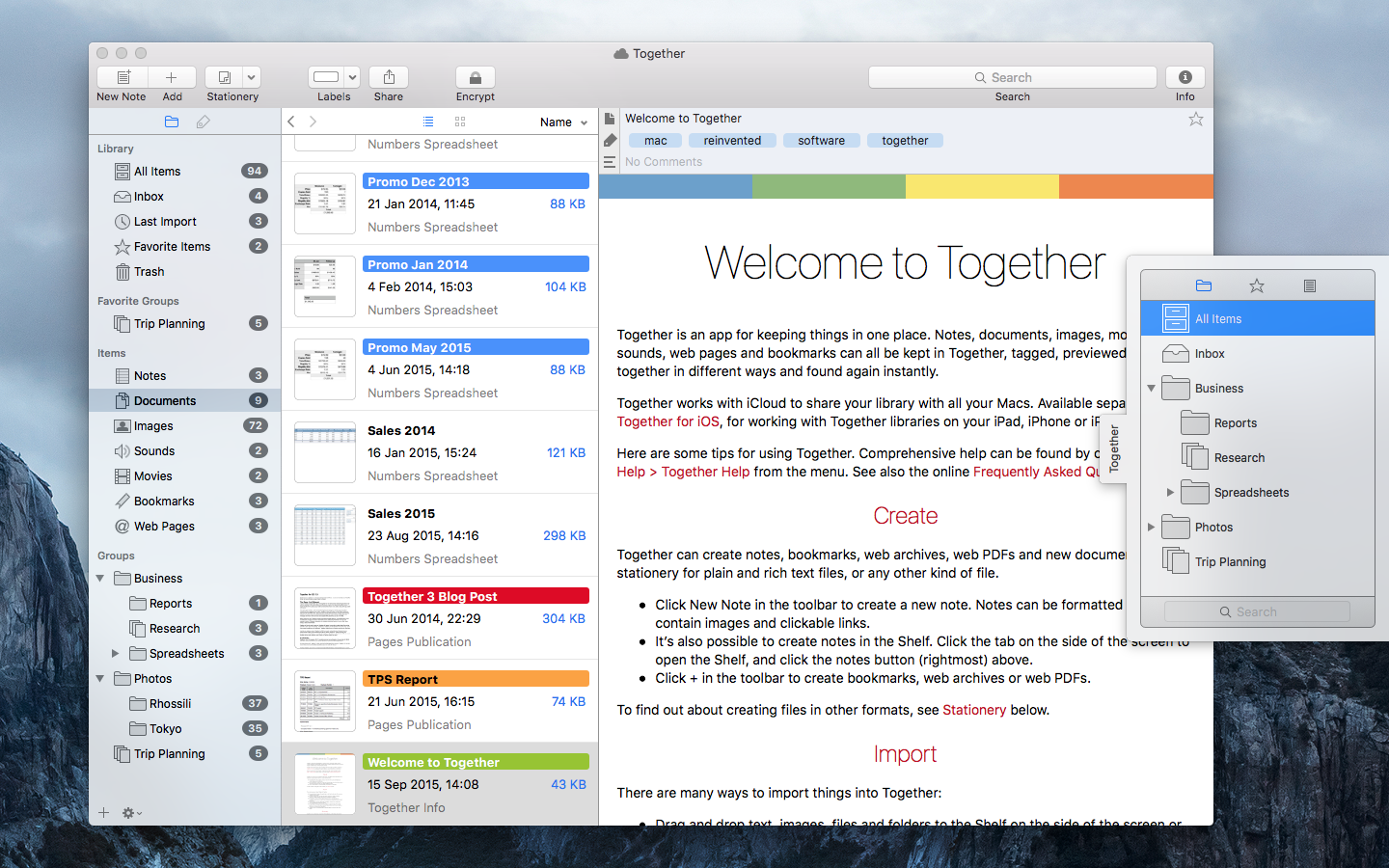 iCloud
iCloud integration has been completely rewritten to make it more flexible, responsive and reliable.
iCloud libraries are now stored in regular folders rather than on iCloud Drive, and have the same features as local libraries, such as linked files and auto import. You can now see progress for iCloud activity and Together can let you know when there is a problem.
When you open an existing iCloud Drive library you will be offered to upgrade. Upgrading moves the files from iCloud Drive to a folder on your Mac, then uploads them to Together's new cloud database. The upgrade can be postponed until a convenient time.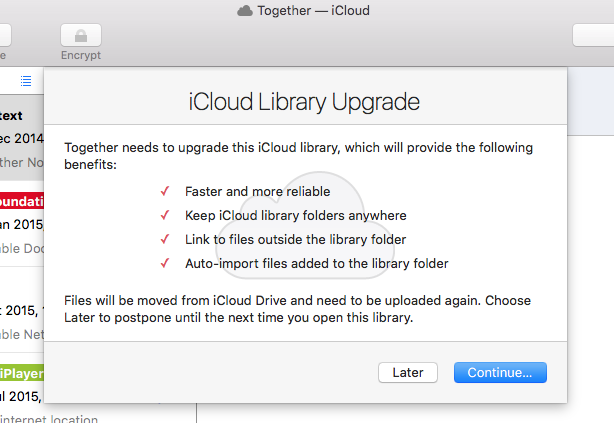 Since the release of Together 3 for Mac in 2013, Together used systems based on iCloud Core Data and iCloud Drive to share libraries, where everything was handled by iCloud. Unfortunately, that had no way of showing overall progress or reporting errors in the app, and it was not possible for me to fix iCloud-related bugs and crashes.
Together now communicates with iCloud directly using CloudKit, the same system Apple use in their own apps such as Photos and Notes on iOS 9 and El Capitan. All new iCloud libraries created on Mac and iOS will use the new system.
Together 1.4 for iPad and iPhone
Together for iPad and iPhone 1.4 is required to use the new iCloud libraries on iOS, includes a new document picker extension for accessing Together libraries in other apps, along with some other improvements.
Currently the iCloud library upgrade cannot be initiated on iOS devices. To perform the upgrade, all files need to be downloaded then uploaded again while Together is running, so this is best done on Mac — iCloud Drive on OS X downloads all files automatically, so your Mac will already have them.
The library upgrade will be offered to iOS app users who do not use the Mac version in a later release. In the meantime, if you do not have Together for Mac, you can effectively upgrade an iCloud Drive library on iOS by making the library local then moving it back to iCloud by tapping Libraries above the list and editing the current library.
Auto Import
Together for Mac can now exclude certain files from getting automatically imported with flexible rules that can be specified in its new Auto Import preferences.
Together presents the structure of your Together library in the Finder, and saving a file to one of these folders will import it into the corresponding place in the app. While Together ignores known temporary and hidden files, some more esoteric apps can create temporary and support files that Together wouldn't recognise as such.
This kind of problem can now be avoided. The rules can exclude files with names that match exactly, start, contain or end with certain terms, along with blocking specific file extensions.
More Improvements
Together 3.5 also includes swipe to delete for items in the portrait and landscape lists, a new medium size for the portrait list, the ability to create labels directly from the toolbar, an option to exclude the Trash when searching, and other minor fixes and improvements.
Getting Help
If you encounter any problems, please check the Together for Mac or the Together for iOS support pages to check for known issues or get in touch for assistance.
Availability
Together 3.5 for Mac requires El Capitan and is a free upgrade for all existing Together 3.x customers. A 15-day trial of Together for Mac is available from this site, but iCloud is only available in the Mac App Store version.
Together 1.4 for iPad and iPhone requires iOS 9 or later, is a free upgrade for existing customers or $9.99 from the App Store.