Mac OS X 10.6 Snow Leopard is publicly available today. Both current releases of Feeder (2.0.5) and Together (2.2.11) are fully compatible. If you are installing Snow Leopard, please ensure you are using these versions, which can be downloaded through the Sparkle automatic update system built into the apps, or from their respective product pages.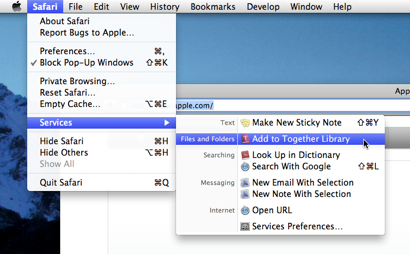 You may notice that the Services menu has been cleaned up in Snow Leopard and this affects Together users. You can now choose which items to show and set shortcut keystrokes for the Services menu in System Preferences. Unlike the mess of before, Snow Leopard only shows the services that are relevant to the current selection.
An additional enhancement is that items in the Services menu now appear in contextual menus. This is intended to replace contextual menu plugins across the system, as those will not work with 64-bit applications.
Speaking of which, I plan to make both Feeder and Together 64-bit applications on their next major release (Feeder 2.1 and Together 2.3). Together will be released first and Feeder will follow. Feeder is much more reliant on a number of third-party components than Together, so that transition will take longer.
I plan to take advantage of more Snow Leopard technology in my apps in due course, while retaining Leopard compatibility for a while.
I've been using Snow Leopard for a while now and my favorite enhancement has got to be the improved Exposé, especially the way an app is put under the spotlight when dragging to its Dock icon. I think Snow Leopard is my favorite release of Mac OS X since 10.3 Panther. Big headline features are great, but a focus on thoughtful enhancements and improved performance always seems to make me smile.
So, if you're installing it today, I'd like to wish you a happy Snow Leopard day!