Together for iPad and iPhone 1.3 is released today with support for new features in iOS 9, improved Share extension and previews along with other fixes and improvements.
Multitasking on iPad with iOS 9
Together 1.3 will work with Split View and Slide Over on supported iPad models running iOS 9 that allows you to see two apps at once. How Together looks depends on its size, so when it's narrow, such as in Slide Over, it will work like the iPhone app and when wider it'll look like the iPad app in portrait mode with a sidebar that appears when you tap the button in the navigation bar. The same changes make it possible to show the sidebar in landscape mode on iPhone 6 Plus.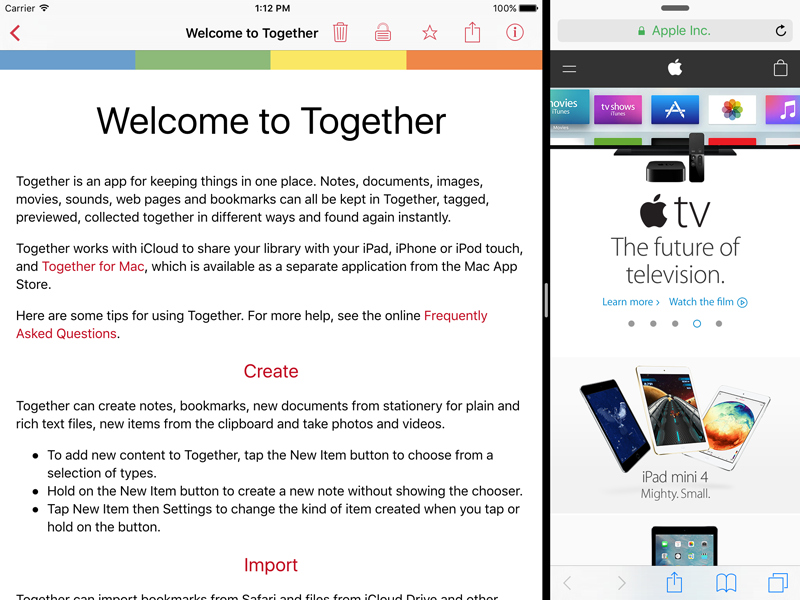 Improved Share Extension
The Share extension has been improved to handle more than just web links, with new support for photos and videos and text that gets saved as notes, making it more convenient to add these things to the current Together library from within other apps.
Improved Rich Text Documents
When using stationery, you no longer need to choose between Rich Text (RTF) and Rich Text & Attachments (RTFD). Instead, you create a Rich Text file and it's converted to an RTFD file if you add an attachment, such as an image. Together for Mac 3.4.7 includes the same functionality and both versions have now dropped the separate Rich Text & Attachments stationery.
And more…
Items you view will now be indexed by iOS 9's systemwide Spotlight for searching. Previewing bookmarks on iOS 9 uses a new Safari view, which features many of the features of Safari, such as reader mode, autofill and content blockers. There are also improvements for working with encrypted files, a consolidation of the way some features work across both iPad and iPhone, plus various other minor fixes and improvements. See the release notes for a full list of changes.
Together for iPad and iPhone requires iOS 8.4 or later, is a free upgrade for all existing users and is priced at $9.99 from the App Store.