Keep It 1.2 is now available for Mac, iPad and iPhone. This version adds icon view, custom styles and background colors for notes, and completes support for the Files app in iOS 11 with thumbnails and previews. It is now possible to specify a default import destination, and there are improvements to search, the tag filter, previews, and various other changes.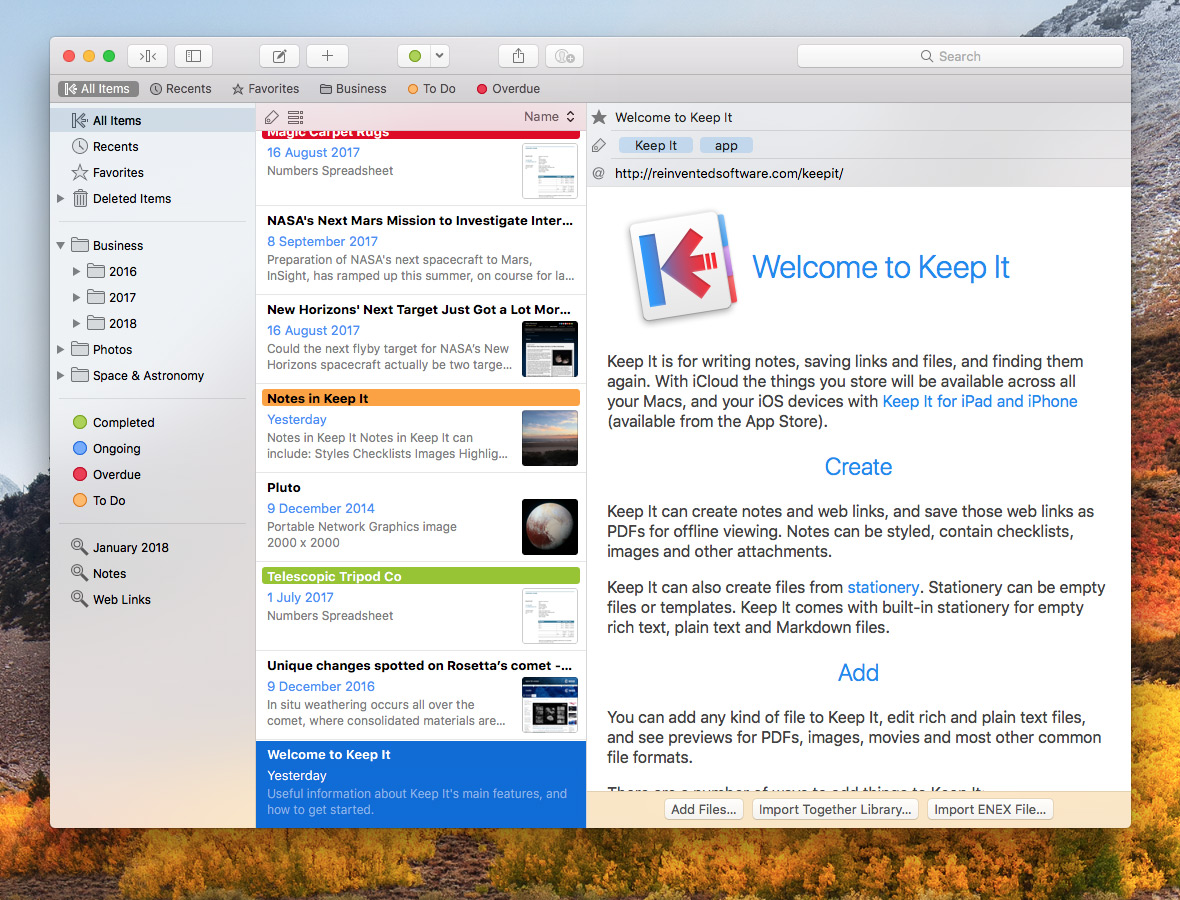 Icon View
Icon view lets you browse items by their thumbnails, and can be used an alternative to list view, particularly useful for working with more graphical items such as images and movies. On Mac, switch between and configure list and icon view using the button above the list. On iOS, the same button is shown in the toolbar below the list. Additional info can be shown below the name, such as the item's date, kind, tags, etc.
Together for Mac users will be familiar with the icon view, but Keep It builds on that by allowing each list to be set to show either list or icon view (the setting for All Items is used as the default), and by bringing icon view to iOS for the first time.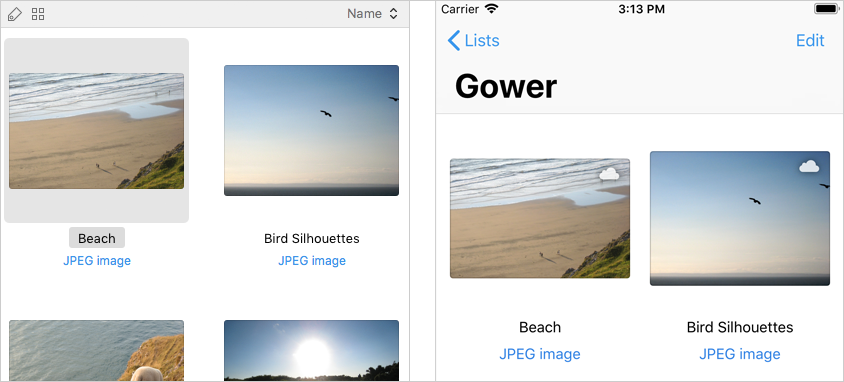 Improved Files App Support
Keep It 1.2 now provides thumbnails for files in the iOS Files app, and Quick Look previews for Keep It notes both in the Files app and other apps that use Quick Look previews.
When first run, Keep It 1.2 for Mac will regenerate thumbnails for iCloud libraries to correct issues where thumbnails stored in earlier versions could be larger than necessary. These thumbnails are used for list view, icon view and the Files app on iOS, and so thumbnails may not appear in those places until all changes have been uploaded.
Default Import Destination
It's now possible to set a folder or bundle as the default import destination. This will be used whenever you import something without specifying a destination, such as dragging to the app's Dock icon, using the Services menu or a bookmarklet. This destination will also be selected by default in the Share extension and Import view.
The chosen folder or bundle will also be shown at the top of the list of folders / bundles with a special icon, and if you're using iCloud, will be consistent across all Macs and iOS devices.
This is similar to the Inbox feature in Together 3, and can be used that way, but allows for more flexibility. For example, if you're focusing on a particular project, you may use a folder relating to that project for as long as it makes sense.
Tag Filter
The Tag Filter now animates on Mac as on iOS, and an "Untagged" item will be displayed if appropriate on both Mac and iOS, providing a straightforward way to see untagged items in the selected list.
Search
On Mac, it's also possible to find things that do not have the chosen terms — for example, clicking on a tag in the search field will let you choose either "Is [tag name]" or "Not [tag name]", allowing you to find items that have, for example, one tag, but not another.
Also, it's now possible to change how the search is performed. On Mac, click the magnifying glass in the search field to choose whether the search matches on all or any of the terms used, and what is searched when typing free text. The chosen options are used as defaults for future searches. Saved searches retain the settings used when they were saved, and when a saved search is selected the settings will apply to the saved search and not the defaults. On iOS, the free text options can be accessed through item list settings, which you can see by tapping the icon / list button below the items list.
Notes
There is now a Monospaced style for notes, and it's possible to customize the fonts and colors of the built-in styles, or create styles of your own. These styles can be set to apply to whole paragraphs or just the selected text, and optionally reset to the Body style on a new line. It's also possible to change the default background color for new notes. These changes apply to both Mac and iOS, and the styles are stored in iCloud, making them available across all your devices.
Other Changes
The list view now animates on both Mac and iOS. On Mac you can now save web links as web archives, and find text within PDF documents. On iOS it's now possible to disable automatically downloading items when viewed. Both apps also have new, improved app icons.
Pricing and Availability
Keep It 1.2 is a free update for all existing customers. For a full list of changes see the release notes for the Mac version, and the release notes for the iOS version.
Keep It for Mac is available for $49.99 directly from Reinvented Software, and Together 3 users can upgrade for $24.99, unless Together 3 was purchased in its final 6 months on sale, in which case the upgrade is free. A 15-day free trial can be downloaded from this site.
Keep It for Mac is also available from the Mac App Store, offers a free trial and a choice of one-time purchase for all Keep It 1.x releases for $49.99, or an upgrade from Together 3 for $24.99 (or free if Together 3 was purchased in its final 6 months on sale). Alternatively, choose from yearly or monthly subscriptions at $19.99/year or $2.50/month.
Keep It for iPad and iPhone is available from the App Store with a choice of yearly or monthly subscriptions at $9.99/year or $1.50/month.