Keep It 1.3 is now available for both Mac and iOS. This version adds iCloud folder sharing, focus on folders, the ability to edit saved searches and create them for the first time on iOS, add highlights and notes to PDFs, and various other improvements.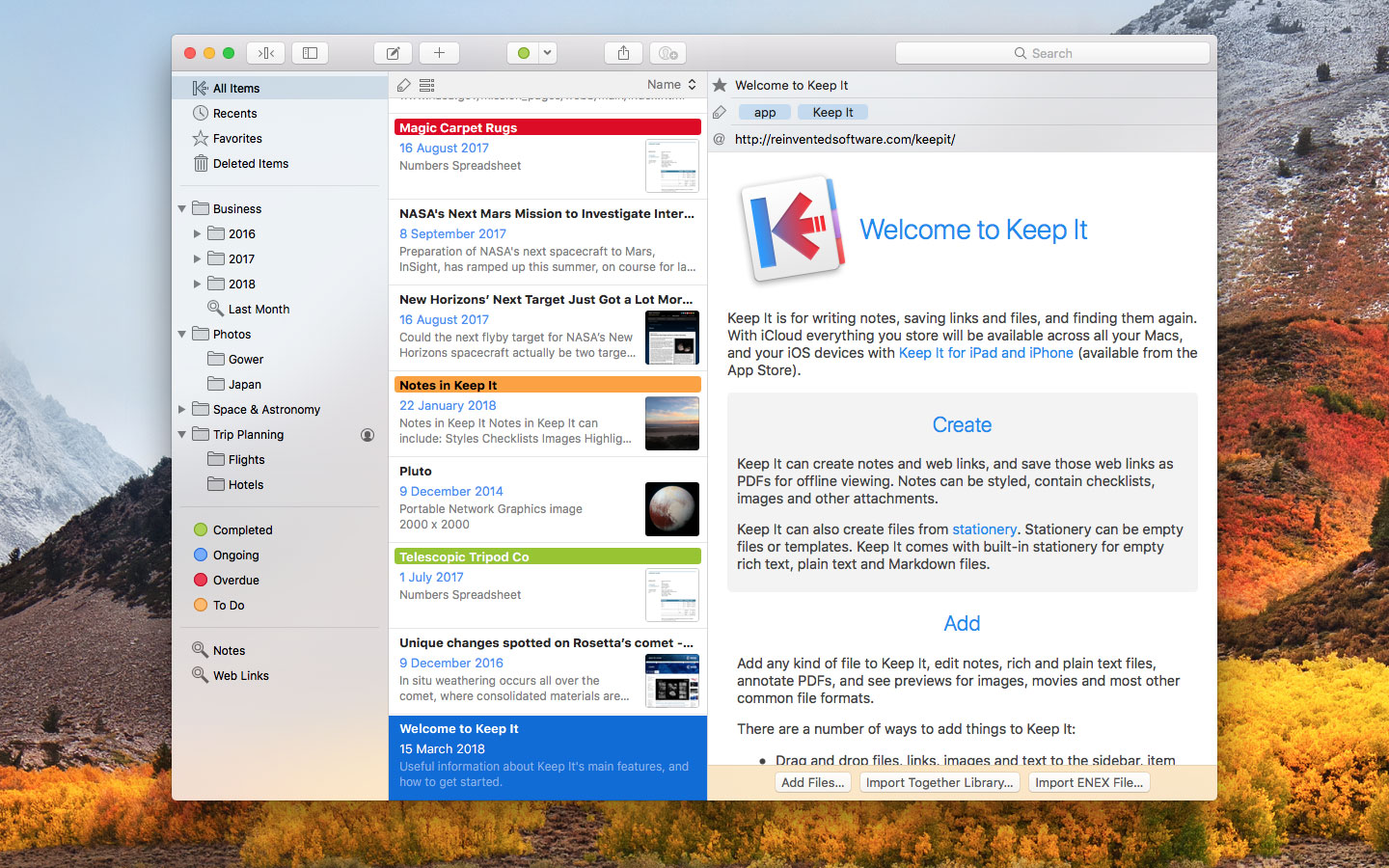 iCloud Shared Folders
Keep It can now share folders with iCloud. Previously Keep It could share individual items, but now any top-level folder can be shared with other Keep It users.
As with individually shared items, the owner's iCloud storage is used, and there are some caveats: only the items and folders are shared, not tags and labels, and while anyone can add, change and move items and folders, only the owner can remove items and folders, or move existing folders to the shared folder. Shared folders cannot contain saved searches or bundles.
Saved Searches
It's now possible to create and edit saved searches without using the search field in Keep It for Mac, and Keep It for iPad and iPhone can create and edit saved searches for the very first time. In addition, saved searches can now be nested in the folders they target.
The saved search editors on Mac and iOS provide additional choices that cannot be specified in the search field, such as untagged and unlabelled items, and matching dates in periods of days, months or years.
Focus on Folders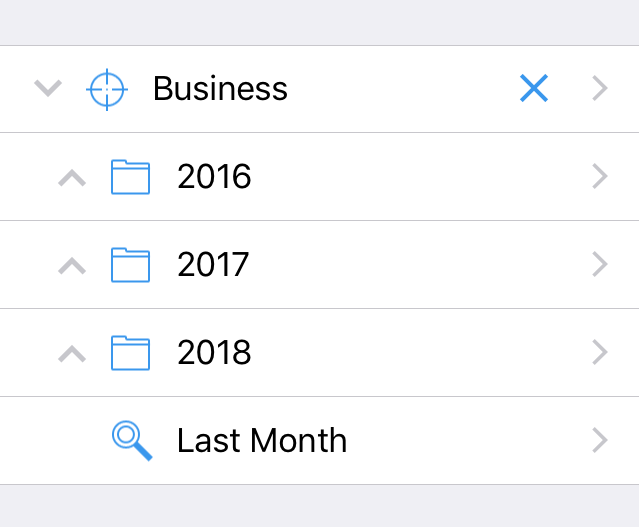 Focus on Folders lets you focus on a particular folder and its subfolders in the sidebar on Mac or Lists view on iOS. Any folder with nested folders, bundles or saved searches can be focused, which makes it ideal for focusing on particular projects (including imported Together libraries).
To focus on a folder, double-click the folder on Mac, or swipe right and tap the focus icon on iOS. Focused folders are indicated with a crosshair icon, and a close button next to the name that will restore the full list of folders and bundles.
Annotate PDFs
Keep It can now add highlights in a variety of colors to PDFs, and add notes to those highlights, on both Mac and iOS. On Mac there is also a toolbar shown above PDF files for zooming, navigating and highlighting.
Other Changes
In Keep It for Mac can now include a Where line in the Info view that will show the path of the folder that contains the item (choose View > Info > Where from the menu to see that), along with a button to see the item in any other lists. Keep It for Mac can also show information about an item's file and edit its dates by choosing Item > Show File Info from the menu.

When highlighting text in notes and rich text documents you can now choose from a variety of colors by clicking the arrow next to the highlight button on Mac, or by tapping and holding on the highlight button on iOS.
Keep It for iPad and iPhone now has a setting to download all items in favorite bundles and folders.
For a full list of changes see the release notes for Mac, and the release notes for iPad and iPhone.
Pricing and Availability
Keep It 1.3 is a free update for all existing customers.
Keep It for Mac is available for $49.99 directly from Reinvented Software, and Together 3 users can upgrade for $24.99, unless they purchased Together 3 in its final 6 months on sale, in which case the upgrade is free. A 15-day free trial can be downloaded from this site.
Keep It for Mac is also available from the Mac App Store, offers a free trial and a choice of one-time purchase for all Keep It 1.x releases for $49.99, or an upgrade from Together 3 for $24.99 (or free if Together 3 was purchased in its final 6 months on sale). Alternatively, choose from yearly or monthly subscriptions at $19.99/year or $2.49/month.
Keep It for iPad and iPhone is available separately from the App Store with a choice of yearly or monthly subscriptions at $9.99/year or $1.49/month.