Keep It 1.9 is now available for Mac, iPad, and iPhone. On Mac, this version updates the app for macOS 11 Big Sur with a refreshed user interface design, and is ready for Apple silicon. Keep It for iPad and iPhone 1.9 has been updated for iOS 14 and iPad 14, adding the ability to create single-page web PDFs, custom label colors, a new sidebar, and a three-column layout on iPad. All versions benefit from color-coded lists in the sidebar, new label colors, and improvements for editing notes.
macOS Big Sur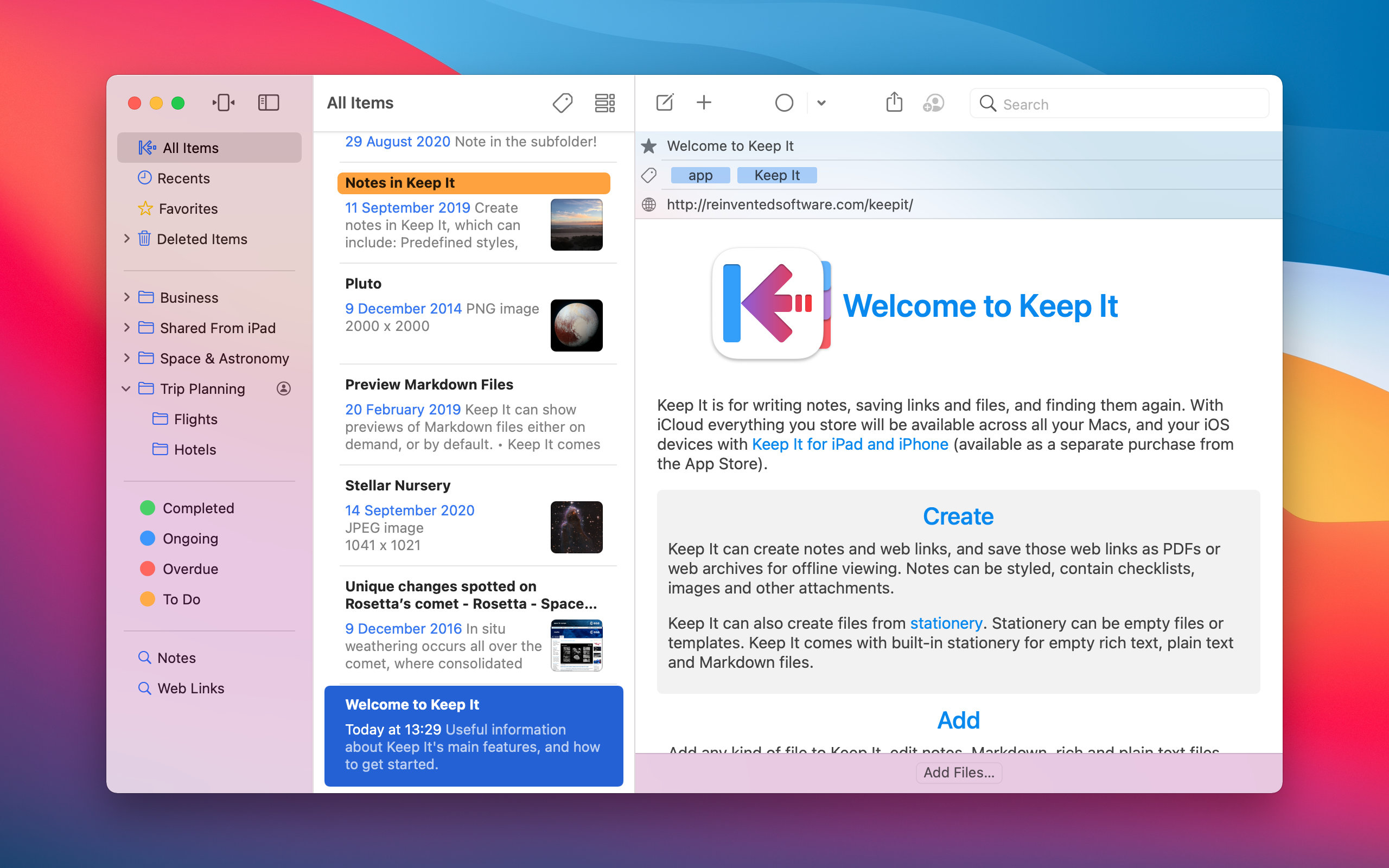 Keep It has been extensively revamped for macOS Big Sur. The library toolbar is now sectioned, and shows the current list name and a collapsable search field. The sidebar is now full-height and its icons match the app's accent color or your preferred accent color.
The item list uses the new inset style, and the View Options and Tag Filter buttons are located above the list in the toolbar. The item count can now be shown below the name of the current list, rather than in the status bar.
Editor windows also show the name of the current item, and will show a path menu when Ctrl-clicked or right-clicked. The Preferences window uses the new Preferences style.
Throughout the app, just about every icon has been updated, and there is a new app icon in the Big Sur style. Keep It for Mac now requires macOS Catalina or later, and will run natively on Apple silicon.
iPhone and iPad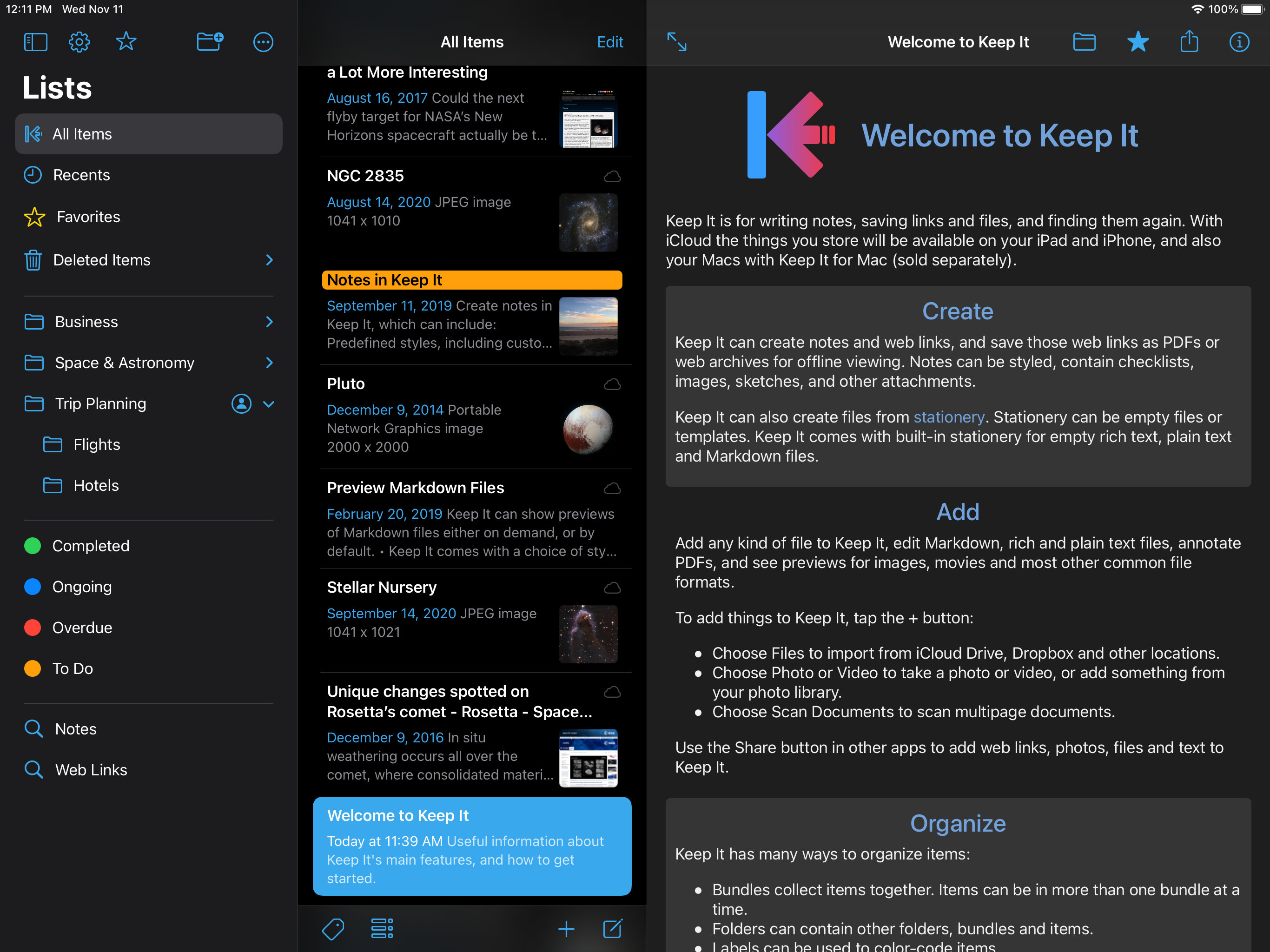 Keep It 1.9 has been updated to take advantage of the new technologies in iOS 14 and iPadOS 14.
On iPad Keep It uses the new three-column layout that makes navigating and dragging items between lists quicker and easier, and the Lists view uses the new sidebar style with colors to match the Mac app. Keep It for iPad and iPhone can now also create labels with custom colors, as on Mac.
On iPhone and iPad, Keep It can now create single-page web PDFs as on Mac. Single-page PDFs capture the entire content of the web page similar to a screenshot, but with links and selectable text.
Menus are used throughout the app to provide a more fluid experience. For example, tapping the + button below the list now shows a menu that streamlines the creation of new items, with commands to add files, photos, web links, stationery items, and scan documents in a single action, rather than navigating through a hierarchy.
List Colors and New Label Colors
To take advantage of colors in the sidebar on Big Sur, it's now possible to assign a color to any folder, bundle, or saved search in the sidebar. This feature also works on iPhone and iPad. On macOS Catalina, a color icon will be shown alongside the name.
Standard label colors have been updated to provide consistency with list colors and system accent colors, and now automatically adjust for light and dark modes.
Other Changes
There are improvements when adding highlights to notes, and on Big Sur the text on web pages can be zoomed with the keyboard. On Mac, the Move to Folder menu is now hierarchical, and favorites are shown at the top for both that and the Add to Bundle menu. Use calendar-based date pickers when editing saved searches and file information. There are also improvements for printing notes and other text documents on Mac, and improved Shortcuts on iPad and iPhone.
See the Release Notes for Mac, and the Release Notes for iPad and iPhone for all the changes.
Pricing & Availability
Keep It 1.9 is a free update for all existing customers.
Keep It for Mac is available for $49.99 directly from Reinvented Software, and Together 3 users can upgrade for $24.99, unless they purchased Together 3 in its final 6 months on sale, in which case the upgrade is free. A 15-day free trial can be downloaded from this site.
Keep It for Mac is also available from the Mac App Store, offers a free trial and a choice of one-time purchase for all Keep It 1.x releases for $49.99, or an upgrade from Together 3 for $24.99 (or free if Together 3 was purchased in its final 6 months on sale). Alternatively, choose from yearly or monthly subscriptions at $19.99/year or $2.49/month.
Keep It for iPad and iPhone is available separately from the App Store with a choice of yearly or monthly subscriptions at $9.99/year or $1.49/month.