Keep It 1.11 is now available for Mac, iPad and iPhone. On iOS 15, Keep It includes Text From Camera support, and improved windows and keyboard navigation on iPadOS 15. There are also improvements for notes, tags, file imports, the Share extension, and Markdown previews.
iOS 15
On supported iPhone and iPad models, you can use the camera to add text to notes, rich and plain text files, and Markdown documents. Drag and drop is now possible between apps on iPhone on iOS 15, which allows you to drag things to and from Keep It.
iPadOS 15
On iPad, items opened in new windows now open prominently, in the centre of the screen, and it's possible to open items in new windows by pinching to zoom on the items list.Key commands have been grouped into categories such as File, Edit and View, and it's now possible to navigate the UI with the tab and arrow keys.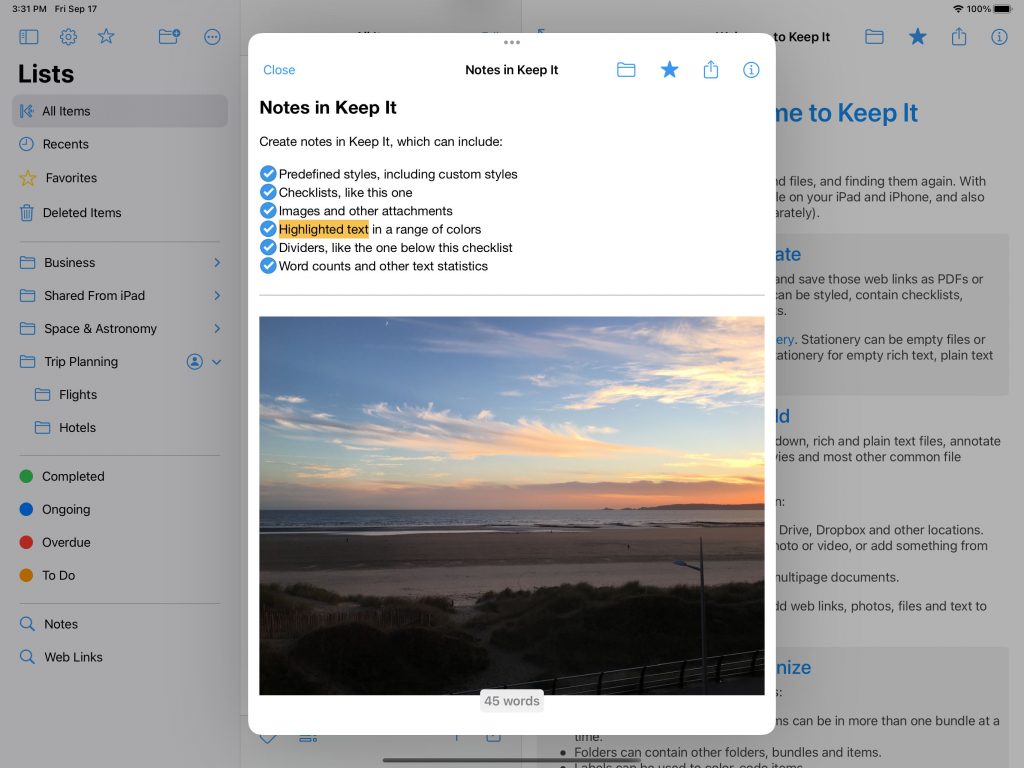 When using Dark Mode, Keep It can now adapt custom text colors in the note to make them more readable. Previously notes with white backgrounds and black text were displayed so that both background and text were appropriate for Dark Mode, but other colors would remain unchanged. This could mean that text pasted from a web page (which rarely use pure black text) would appear unreadable unless changed. As before, notes with custom background colors will be shown exactly the same in both light and dark modes.
The first page of an attached PDF can now be shown inline on iPad and iPhone, but it's still possible to show attached PDFs as an icon by tapping and holding on the preview.
Convert to Note
Standalone PDFs and images can be converted to an attachment on a new note by choosing Convert To Note from the PDF or Image menu on Mac, or by choosing Convert To Note in the Activity sheet on iPad and iPhone. The converted note will retain all the original tags, comments, creation date, etc of the original file, and on Mac the original image or PDF file will be moved to the system Trash.
Tags
Keep It can now be set to use hashtags in notes, rich text, plain text, and Markdown documents. When enabled, tags in the text will be used as the item's tags in Keep It with the leading # removed and underscores replaced with spaces. Hashtags can be clicked / tapped to filter for all items that contain that tag.
On Mac, when using the tag filter, the window subtitle (or status bar on Catalina) shows how many items have been found, as the app already did when searching.
Imports
Keep It for Mac can now import web links from bookmarks HTML files, such as those exported by a web browser. Tags and the folder structure of the bookmarks will be preserved.
The Share extension now shows recent items in the Where pop-up when adding links or files to Keep It, without you needing to choose "New Note" first. There is now a setting in Import preferences on Mac or Settings on iOS to include HTML and plain text files when converting imported files to notes.
And More…
On Mac, when moving items to a folder, and an item exists with the same name, it's now possible to choose to skip all, rather than have to deal with each conflict individually. You can now set custom HTML for the <head> section of Markdown previews. The maximum depth of folders on iCloud has been removed, thanks to improvements in iCloud. See the release notes for a full list of changes:
Pricing & Availability
Keep It 1.11 is a free update for all existing customers.
Keep It for Mac is available for $49.99 directly from Reinvented Software, and Together 3 users can upgrade for $24.99, unless they purchased Together 3 in its final 6 months on sale, in which case the upgrade is free. A 15-day free trial can be downloaded from this site.
Keep It for Mac is also available from the Mac App Store, offers a free trial and a choice of one-time purchase for all Keep It 1.x releases for $49.99, or an upgrade from Together 3 for $24.99 (or free if Together 3 was purchased in its final 6 months on sale). Alternatively, choose from yearly or monthly subscriptions at $19.99/year or $2.49/month.
Keep It for iPad and iPhone is available separately from the App Store with a choice of yearly or monthly subscriptions at $9.99/year or $1.49/month.