Keep It is for writing notes, keeping web links and documents, and finding them again on Mac, iPhone and iPad. Keep It is the destination for all those things you want to put somewhere, confident you will find them again later.
Keep It for Mac is available today as a public beta, which is free to try and use. Keep It for iPad and iPhone will be available as a beta soon — you will need to sign up to take part.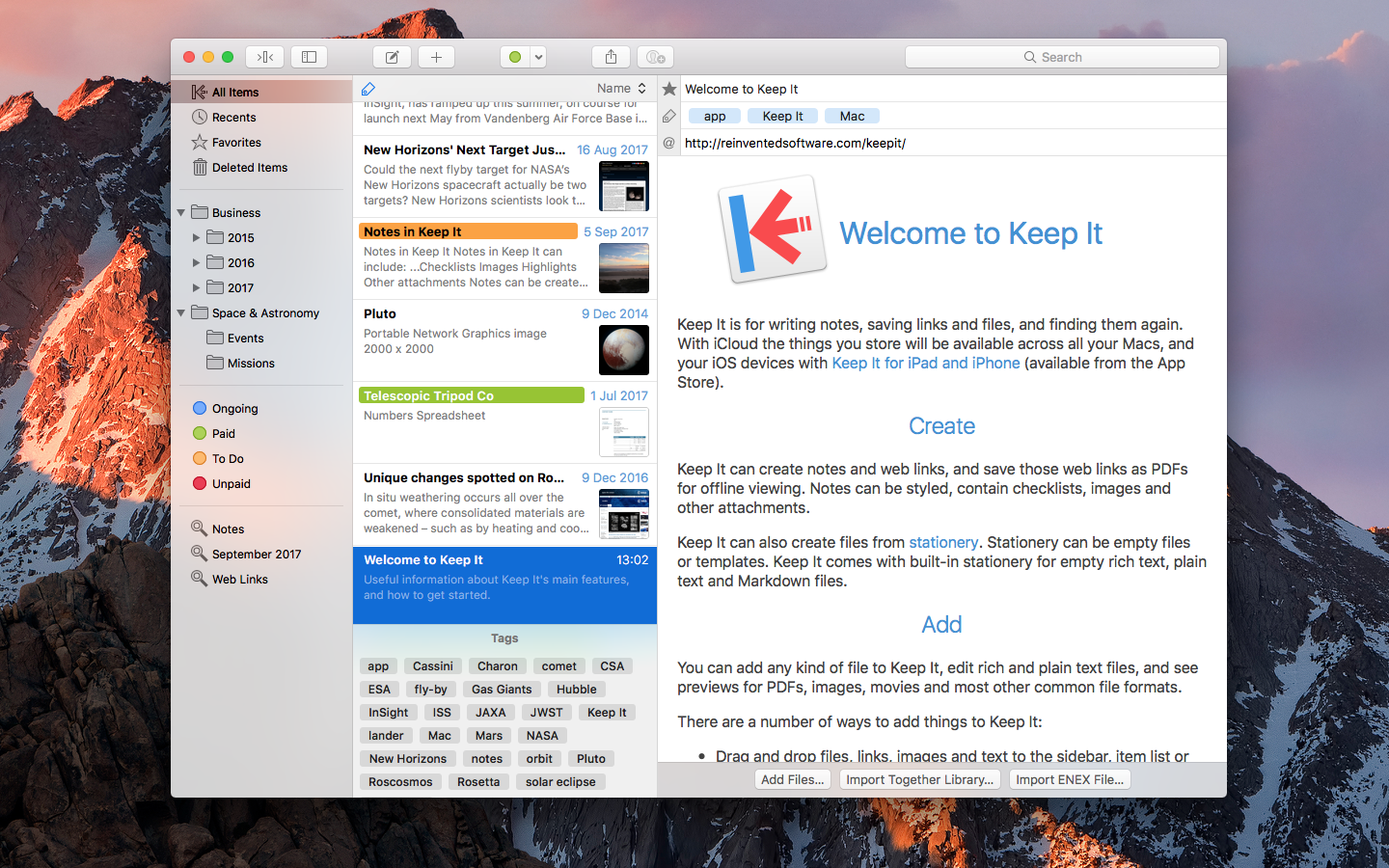 Here are Keep It's main features:
Notes
Create notes with built-in styles that look good and read well on all your devices. Notes can contain checklists, bulleted and numbered lists, images, links and other attachments.
Web Links
Save web links to Keep It, view them in the app, open them in your browser, or save them as PDFs for offline reading.
Files
Add any kind of file to Keep It, view them in the app and open them for editing in their original applications. With iCloud changes will be available across all your devices.
iCloud Sharing
Add people to items and share them via iCloud. Changes will be seen by all participants.
Items
All items can have tags, comments and colored labels for quick visual recognition. Keep It automatically generates thumbnails and summaries for most common file formats.
Search
When searching, suggestions appear to help narrow results down to exactly what you need, or use keywords and natural language. Searches can be saved for later reuse.
Tag Filter
The Tag Filter shows all the tags attached to currently visible items. Select tags to filter the list to just the items you want to see.
Bundles
Make a bundle to see things in one place. Items can be in more than one bundle at a time, and when you remove the bundle, everything else stays where it was.
Folders
Use folders to organize items and bundles. Keep It lets you see everything a folder and its nested folders and bundles contain.
More Lists
Use the Recents list to see things you've added or viewed lately across all your devices, with the latest shown at the top. Favorites provide quick access. Deleted Items shows the most recently deleted at the top, and these are permanently removed after 30 days.
Compact Mode
In Compact Mode, Keep It for Mac becomes a single column that you navigate with single-clicks and swipes, ideal for using alongside other apps or in split screen.
Adding from Other Apps
Pretty much anything can be dragged to Keep It, and you can also add things from a variety of apps with Keep It's Share extension, the Services menu, its bookmarklet, etc.
Information for Together Users
Keep It is the successor to Together. Many of Together's fundamental features were established years before iPhone apps, iPad, the Mac App Store, iCloud, etc. Keep It has been developed from scratch, preserving the best of Together, but recast in full knowledge of where we are now, and ready for the years ahead.
Keep It has many new ideas and improvements over Together, including:
Tag Filter can filter combinations of tags in the same straightforward way on both Mac and iOS
Compact Mode for working alongside other apps on Mac
Summaries and thumbnails on both Mac and iOS
iCloud sharing for individual items
Search suggestions on Mac, and saved searches that work consistently across Macs and iOS
Use keywords and natural language when searching on both Mac and iOS
Favorites Bar for quick access to lists on Mac
Hide the sidebar on Mac; it will reappear when you drag to the side of the window
Folders can show all items in nested folders and bundles
Selecting multiple items shows options to add them to a bundle, move to a folder, change the label or add tags
See and search a list of tags in the Info view
Save web links as PDFs on both Mac and iOS
Predefined styles for notes and improved file attachments
Edit notes in tabs or their own windows on Mac
Text for notes and rich text scaled to match the Text Size setting on iOS
Recents list shows added and edited items across all your Macs and iOS devices
Deleted items automatically removed after 30 days
Each list can have its own sort settings
Automatically rename items created from stationery
Share extension can tag items, choose locations, append text to notes and more
Bookmarklet can import a link or the selected text from a web page
About The Beta
This beta is feature complete for Keep It 1.0. This is an opportunity to try out the app, import your data and see if it works for you. Keep It can import Together libraries, Evernote ENEX files, and regular files and folders.
Beta Discount Period
Keep It is free to use during the beta period. When released, Keep It for Mac will be priced the same as Together: $49.99 for new users and $24.99 for upgrades from Together 3.
During the beta period Together 3 users can get Keep It for Mac 1.0 for $19.99 (60% off full price) and new users for $34.99 (30% off). These licenses will work for all Keep It for Mac 1.x versions and have the exact same status as licenses purchased after the beta. Anyone who purchased Together for Mac in the last 6 months qualifies for a free upgrade, both during and after the beta period. See the Keep It for Mac support page for information on obtaining the discounts and importing Together libraries.
Together users can also check out Keep It for Together Users for more information on the differences between the two apps.
Keep It is the product of everything I've learned over the last 14 years, and returns the app to its roots, offering the power of an organizer with the simplicity of a notebook. I hope you enjoy using it.