February 12th, 2020 by Steve Harris

Keep It 1.8 is now available for Mac, iPad and iPhone. This version adds sketches in notes on iPad and iPhone, thumbnails for web links, text editing improvements for notes and rich text documents, many new and improved ways to automate the app, help files on iOS, and various other tweaks and improvements.
Sketches
Add sketches to notes on iPad and iPhone, whether with Apple Pencil or by drawing directly on the screen. The sketches will remain editable and will be displayed appropriately for light and dark mode on iOS 13 and macOS Catalina.
Text Editing Improvements
Notes can now be set to start with with any predefined style, and there is a new "Subheading" style. Bulleted or numbered lists will now be created automatically when a line starts with a valid list prefix, such as a bullet character or number.
Editor Windows on Mac
Editor windows on Mac can now be set to float above all other windows, and it's possible to set a default size for new items.
Automation
Keep It for Mac now provides Automator actions for adding web links, files, text and attachments, and to help support iPad apps on Mac, now supports the exact same x-callback-urls as on iPad and iPhone.
Whether using AppleScript, Automator, x-callback-urls, or the Shortcuts app on iPad and iPhone, it's now possible to specify a note style when adding and appending appending text to notes. It's also possible to use AppleScript, Shortcuts, and x-callback-urls to append a link to a note or other editable text files.
On iPad and iPhone, the Add Files to Keep It shortcut can now convert text files to notes. There are also new shortcuts to work with bundles and folders, and the Set Properties on Keep It Item shortcut can now change an item's Source URL and whether or not the item is a favorite.
Help Files on iOS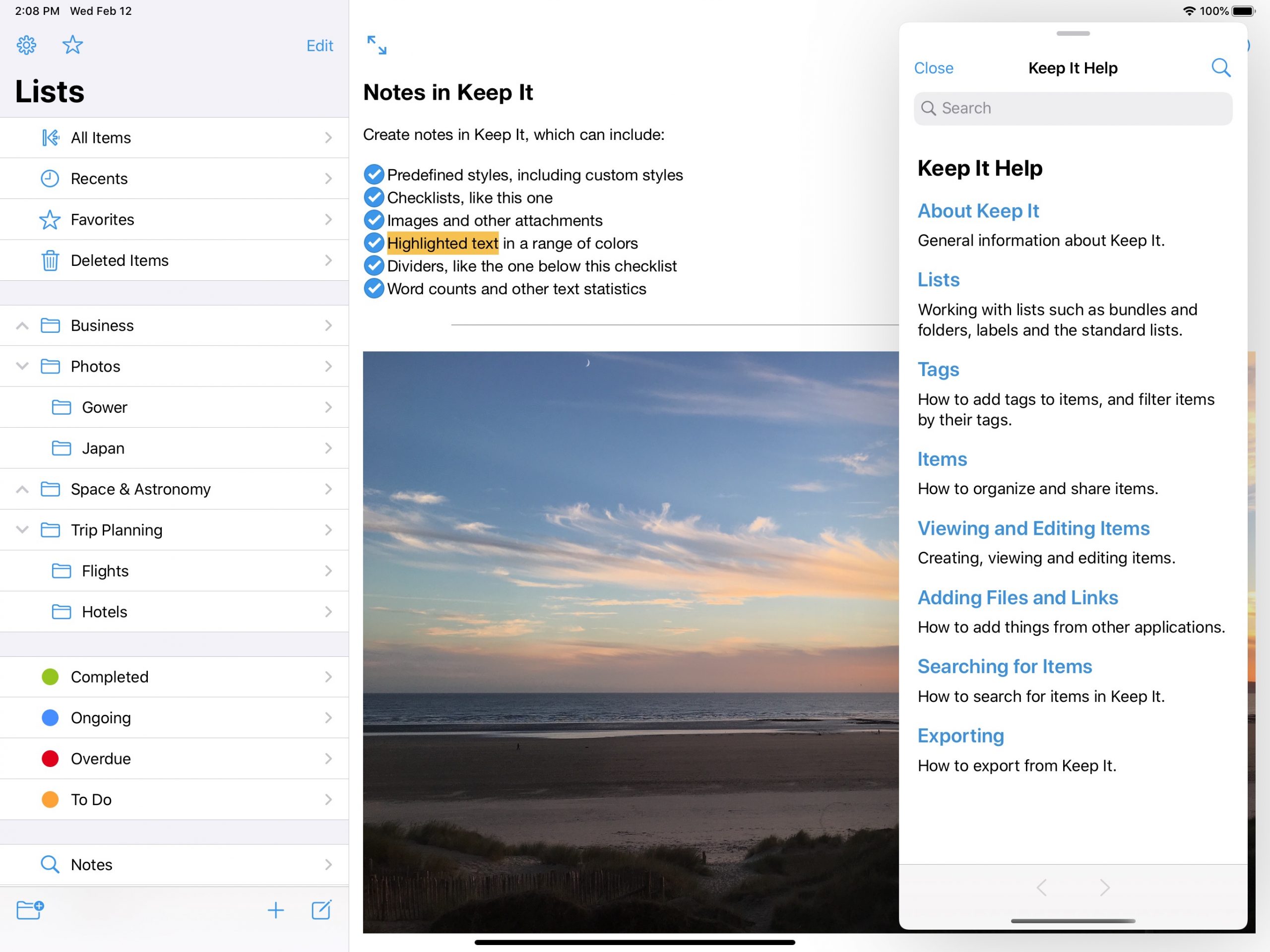 There are now extensive help files for Keep It for iPad and iPhone. The help files are fully searchable, and on iPad it's possible to open the help browser in a new window for use alongside the app in Split View or Slide Over.
And More
Keep It will now generate thumbnails for web links on macOS Catalina, iPhone and iPad. On iPad and iPhone, notes and Markdown documents can be exported as PDFs, and it's now possible to drag and drop items and lists on iPhone.
See the release notes for Mac and for iPad and iPhone for a full list of changes.
Pricing & Availability
Keep It 1.8 is a free update for all existing customers.
Keep It for Mac is available for $49.99 directly from Reinvented Software, and Together 3 users can upgrade for $24.99, unless they purchased Together 3 in its final 6 months on sale, in which case the upgrade is free. A 15-day free trial can be downloaded from this site.
Keep It for Mac is also available from the Mac App Store, offers a free trial and a choice of one-time purchase for all Keep It 1.x releases for $49.99, or an upgrade from Together 3 for $24.99 (or free if Together 3 was purchased in its final 6 months on sale). Alternatively, choose from yearly or monthly subscriptions at $19.99/year or $2.49/month.
Keep It for iPad and iPhone is available separately from the App Store with a choice of yearly or monthly subscriptions at $9.99/year or $1.49/month.